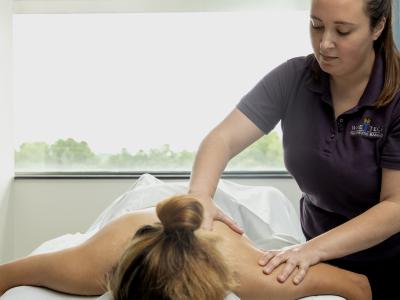 Program Contact
Nancy Harrell
About The Program
The Therapeutic Massage program is a two semester (fall and spring), full-time day program offered at Wake Tech's Perry Health Sciences Campus, 2901 Holston Lane, Raleigh NC. The curriculum prepares graduates to work in direct client care settings to provide manipulation, methodical pressure, friction, and kneading of the body for maintaining wellness or treating alterations in wellness throughout the lifespan. 

Program Contact:
Nancy Harrell
919-787-0164
[email protected]
The Therapeutic Massage program prepares graduates to:
Take the Massage and Bodywork Licensing Exam (MBLEx) administered by the Federation of State Massage Therapy Boards. Passing the MBLEx is necessary to apply for a license as a massage therapist in North Carolina. Other states may require graduates to pass a different exam.
Function as providers of massage therapy care, as managers of care, as members of the discipline of body workers, and as members of the multidisciplinary team.
Strive for excellence and assume leadership roles in providing quality therapeutic massage care to clients and groups in a variety of settings.