WakeWorks Apprenticeship
Building Futures.
For students, apprenticeships offer opportunities to earn while they learn – and to get a leg up on employment and workplace success. Funding through WakeWorks will cover tuition, fees, books, uniforms, and tools for students, putting a college education within reach for some who never thought one possible.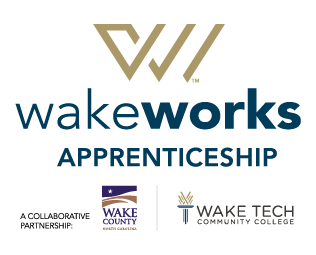 Building Businesses.
Companies know that skilled workers are critical to their success. Apprenticeships are expanding across the U.S. as industries seek workers with experience as well as education and training. WakeWorks will help local industry meet their staffing needs.
Apprenticeship Options at Wake Tech
Available now

Carpentry
Electrical
Pipefitting/plumbing
HVAC
Welding 

Coming Soon

Apartment Maintenance Technician 
Automotive Technician
Building & Code Inspector
Contact Us
For more information about joining an apprenticeship or pre-apprenticeship program, or for assistance with starting an apprenticeship at your company, contact us!