Military and Veterans Services
Make higher education a key part of your transition to civilian life. Wake Tech serves thousands of veterans and their families each year with special programs and resources.
Wake Tech is approved as a degree-granting institution for veterans and eligible dependents seeking educational or vocational training under Title 38, United States Code. Wake Tech maintains membership in Service Members Opportunity Colleges, which provides the following:
Reasonable transfer credit for work already completed
Credit for military training and experience
Credit for nationally-recognized standardized testing programs
Veterans, active-duty service members and their dependents who want to attend Wake Tech can use the following VA benefits: Montgomery GI Bill® (Chapter 30), Vocational Rehabilitation and Employment (Chapter 31), Post-9/11 GI Bill® (Chapter 33), Survivors and Dependents Education Assistance (DEA, Chapter 35), Select Reserve GI Bill® (Chapter 1606) and Reserve Educational Assistance Program (REAP, Chapter 1607).
The mission of the Military & Veterans Services Department is to support and enhance the educational experience of student veterans and eligible dependents by assisting with the transition into higher education to achieve their career goals. Staff members are committed to providing veterans with the highest-quality academic support services by assisting with VA Education Benefits, facilitating the transition into college life and providing support for their ongoing academic success.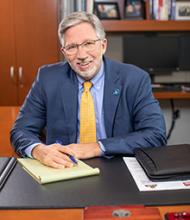 President's message
Welcome service members, veterans and families. Thank you for choosing Wake Tech!
We recognize the sacrifices you have made on behalf of our nation, and we support you as you continue your education. We have the programs and services to help you pursue academic and career goals, whether you seek a degree, diploma or certificate, university transfer or new skills and career options. Veterans' Services is here to assist you.  
I wish you the very best in all your future endeavors.
 – Dr. Scott Ralls
Recruiting service members
As required by the U.S. Department of Defense and to eliminate unfair, deceptive and abusive marketing aimed at service members, Wake Tech will do the following:
Ban inducements, including any gratuity, favor, discount, entertainment, hospitality, loan, transportation, lodging, meals or other item having a monetary value of more than an insignificant amount to any individual or entity or its agents, including third-party lead generators or marketing firms, other than salaries paid to employees or fees paid to contractors in conformity with all applicable laws for the purpose of securing enrollments of service members or obtaining access to Tuition Assistance (TA) funds. Educational institution-sponsored scholarships or grants and tuition reductions available to military students are permissible.
Refrain from providing any commission, bonus or other incentive payment based directly or indirectly on securing enrollments or federal financial aid, including TA funds, to any persons or entities engaged in any student recruiting, admission activities or making decisions regarding the award of student financial assistance.
Refrain from high-pressure recruitment tactics, such as making three or more unsolicited contacts, including contacts by phone, email or in person, and engaging in same-day recruitment and registration for the purpose of securing service member enrollments.
---
GI Bill® is a registered trademark of the U.S. Department of Veterans Affairs. More information about education benefits offered by the VA is available at the official U.S. government website.