Events
WakeWorks® Apprenticeship Honors Milestone 100th Employer Partner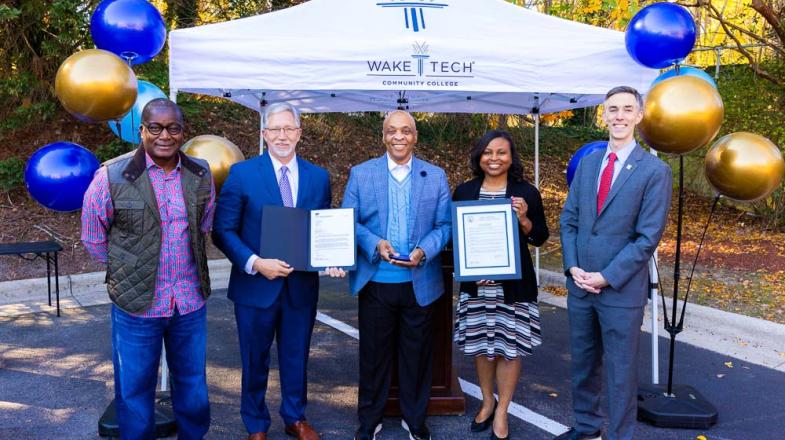 RALEIGH, N.C. (November 13, 2023) – Wake Tech is pleased to announce and recognize The Tennie Group LLC as the 100th employer partner in the WakeWorks® Apprenticeship program.
WakeWorks®, now in its third year, is a partnership between Wake Tech and Wake County to address the county's shortage of technical workers, giving students a unique opportunity to earn an income while getting an education and learning new skills.
As a kickoff to National Apprenticeship Week, a surprise celebration was held Monday at The Tennie Group office in Knightdale to recognize Darrell Tennie, founder and chief executive officer, and the staff of the tax and accounting firm for their commitment to train and mentor student apprentices.
Wake County Commissioner Matt Calabria, state Rep. James Roberson and Knightdale Mayor Jessica Day attended the event. Calabria brought a letter of support from the Wake County Board of Commissioners, and Day presented a proclamation of support from the Town of Knightdale for the company's dedication and commitment to workforce development in Wake County.
"Wake Tech is one of the fastest-growing apprenticeship colleges in the country, and we're excited to celebrate The Tennie Group and Mr. Darrell Tennie as our special 100th WakeWorks® Apprenticeship employer partner," said Wake Tech President Dr. Scott Ralls. "We applaud Mr. Tennie and all our WakeWorks® employer partners for their commitment to developing highly skilled talent our employers need in Wake County."
Wake County commissioners launched WakeWorks® Apprenticeship in 2020 with their unanimous approval of spending up to $500,000 per year to expand registered apprenticeship opportunities in skilled trades and technician programs where demand for workers is high. WakeWorks® funding covers tuition, fees, books, uniforms and tools for apprentices, who receive 2,000 hours of on-the-job training and 144 hours of related classroom instruction.
This past summer, WakeWorks® Apprenticeship eclipsed the 100 participating business partner threshold with The Tennie Group. WakeWorks now has 109 employer partners representing 23 different occupations and continues to grow. Currently, more than 300 apprentices are getting classroom instruction at Wake Tech with the support of WakeWorks® while working on-the-job as technicians in fields like automotive, construction, manufacturing, hospitality, finance, health sciences, biotechnology, IT and education.
In addition to WakeWorks®, Wake Tech partners with employers in the North Carolina Triangle Apprenticeship Program to support student youth apprentices, who begin their apprenticeships in high school and complete their related training at Wake Tech. Also, Wake Tech is one of five U.S. partner schools supporting Amazon's Reliability and Maintenance Engineering Mechatronics and Robotics Apprenticeship program. The combination of programs make Wake Tech a national apprenticeship leader, with more than 500 registered apprentices attending the college for their related training.
For employers, apprenticeships are a great way to train their talent pipeline with the right skills they need to sustain and grow their business. They can also improve productivity, profitability and an employer's bottom line.
Founded in 2004, The Tennie Group is a minority-owned and a predominantly women- and minority-staffed business that offers comprehensive personal and business tax services. The company has a history of offering work-based learning, internships and employment to Wake Tech students and graduates. Of the company's 12 employees, one is a Wake Tech grad, and two are current Wake Tech students.
In addition to earning a paycheck of family-sustaining wages from their employer, apprentices also earn a nationally recognized credential and have an opportunity to build a long-term career. Most apprenticeships turn into permanent employment, with statistics showing that 91 percent of apprentices are still with their employers after nine months. Apprenticeship graduates can expect to earn as much as $300,000 more over their lifetime compared to peers who don't complete an apprenticeship, according to the U.S. Department of Labor. Apprenticeships also provide an opportunity to make good jobs more accessible to populations that have been underrepresented in the workforce, including women, people of color, people with disabilities and others. More than half of WakeWorks® apprentices are minority, and more than 70 percent are under the age of 30.
WakeWorks® apprentices are registered with ApprenticeshipNC, North Carolina's apprenticeship agency. In 2022, more than 13,000 apprentices across the state were served through ApprenticeshipNC.
Learn more about student apprenticeship and employer partner opportunities with WakeWorks® Apprenticeship at apprenticeship.waketech.edu.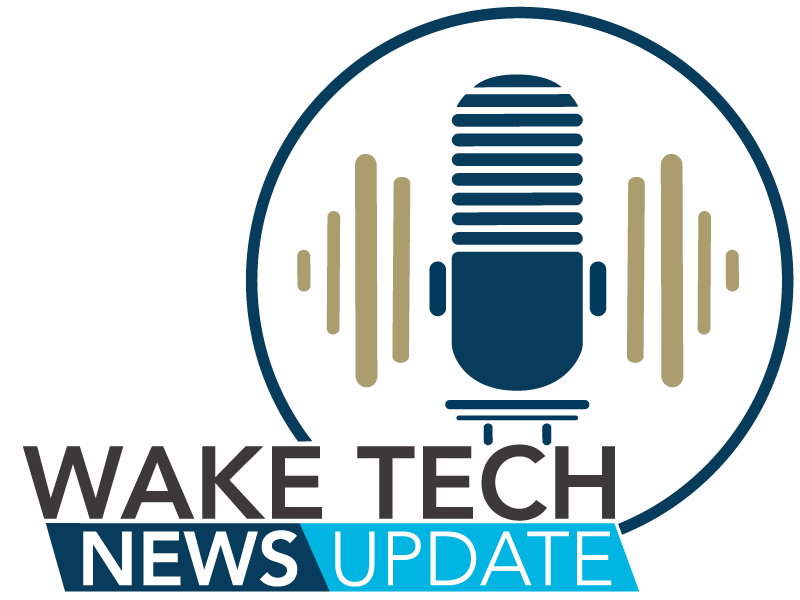 Latest News from Wake Tech