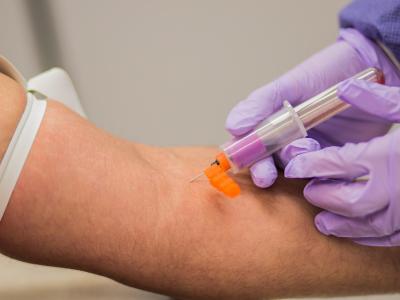 Program Contact
Samantha Bray
About The Program
A phlebotomist plays a vital role in health care by collecting blood specimens from patients for laboratory tests used in the diagnosis and treatment of disease. Phlebotomists perform venipunctures, finger sticks or heel sticks to obtain specimens.
In addition, phlebotomists also work with laboratory personnel to manage, process and transport specimens collected from patients. In some settings, phlebotomists may perform bedside testing. Phlebotomists work in dynamic, fast-paced environments and are challenged each day with situations requiring specialized knowledge and skill. Hospitals, clinics, doctors' offices, nursing homes, research settings and reference labs all employ phlebotomists.
Wake Tech offers a 16-week program that will train you to be a phlebotomist. You will receive intense, individualized phlebotomy training in theory and skills and complete a psychology course the first eight weeks of the semester. During the second eight weeks, you will actually practice phlebotomy in hospital and clinic settings supervised by highly skilled professionals.
Upon successful completion of the program, you will be eligible to take the Phlebotomy examination given by the American Society for Clinical Pathology's Board of Certification.
Wake Tech's Phlebotomy program is approved by the National Accrediting Agency for Clinical Laboratory Sciences, 5600 N. River Road, Suite 720, Rosemont, IL 60018-5119 (Phone: 773-714-8880).
The Phlebotomy program is not covered by financial aid; however, if accepted, you can apply for financial assistance after orientation. If you are a veteran, it is possible your benefits may cover the cost of the program. Please see a veterans' benefits specialist for more information.
Admission process
Submit unofficial transcript(s) from high school, high school equivalency programs and previous college(s) to

[email protected]

. Once received, your file will be reviewed for course placement.
 
Students are accepted on a first-come, first-served basis until the program reaches its enrollment cap. Once classes are filled, additional students will be placed on a waiting list and offered seats if and when they become available.
 
About one month later, students will receive an email to attend a mandatory departmental orientation.
Acceptance or alternate status is based on receiving an unofficial transcript, attendance at the departmental orientation and completion of all clinical site requirements.
Once accepted into the program, students will be able to register for Phlebotomy classes.