Are you interested in becoming a real estate agent? Or are you a realtor who needs Continuing Education Units (CEUs)? Wake Tech can prepare you for the North Carolina Real Estate Commission licensing exam. We also offer classes on flipping houses, investing in real estate property, and The Ageless Home™ -- a class about building and remodeling homes with a universal design concept to meet the needs of all ages and abilities.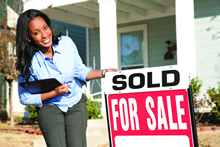 Course Details & Registration Information
Course
"Flip It"...A look into investing in today's real estate market
Name
SEF-3001EO2
Overall Quality of This Course
Based on 19 student surveys.
Available Classes
Description
Examine investment opportunities in real estate, including personal residences, rental properties, and "flips," and learn how to determine which investments are smart ones. Homeowners will learn to evaluate their homes as investments, calculating value accurately, considering improvements to increase marketability, and exploring financing options. Novice investors who want to start slowly will learn about taking advantage of a depressed market for short and long-term gains.
Course Objectives
Students will learn to evaluate their homes as investments, calculate value accurately, understand how to increase value and marketability, and explore financing options.
Outline of Instruction
1. Part 1: Introduction to Class
a. About the Instructor
b. About you – what are you trying to obtain from the class by week 9
c. Weekly articles – send to me in advance
d. Decide on your goals
e. How to Obtain info
f. Determining good comps
g. Start on Finance options & NC Contracts

2. Part 2: Finances
a. Review / Q&A of last weeks class / Go over articles sent over past week
b. Guest speaker if available (Lender)
c. Traditional institutional financing options
d. Private money
e. Comparing Loan options and how it affects your investment
f. Establishing returns
g. Finish NC Contract info

3. Part 3: Rentals
a. Review / Q&A of last weeks class / Go over articles sent over past week
b. Goals of your rental
c. Guest Speaker if available (Property Manager)
d. How to identify a good rental property
e. Cash flow and numbers
f. Ins and Outs of a lease
g. Tenant issues, Marketing of Rental, Misc. Issues

4. Part 4: Flips (Part 1)
a. Review / Q&A of last weeks class / Go over articles sent over past week
b. Goals of your Flip
c. Finding the Flip
d. Budget & Timelines
e. Example House Video
f. Students will create a sample repair list & budget between Parts 4 & 5

5. Part 5: Flips (Part 2)
a. Review / Q&A of last weeks class / Go over articles sent over past week
b. Guest speaker if available (General Contractor)
c. Go over in-depth budgets
d. Compare list of repairs and budgets for Example House from week 4
e. Combine student's repairs/budgets to a master list and see if home is profitable
f. Misc. Items & Tips

6. Part 6: Taxes, LLC's, Personal Residences and Foreclosures
a. Review / Q&A of last weeks class / Go over articles sent over past week
b. Guest Speaker if available (CPA for taxes)
c. How to structure investors and use of LLC's
d. Utilizing personal residences as investments, upgrades to make, etc.

7. Part 7: Overall/Recap of class, Specific examples/problems/questions
a. Review / Q&A of last weeks class / Go over articles sent over past week
b. Go over each topic covered and review
c. Extensive Q&A
Contact Hours
21
CEU's
No
Industry Standard, State, or National Certification
No
CE to CU Articulation
No
Prerequisites
none
Text and Supplies Needed
Provided
Clinical Site/Special Facilities
Requirements for Successful Completion of this Course
Attendance 80% or above
Participation
Accreditation/Special Approval Requirements
Intended Audience
Specific Industry or Business Support Needs
Industry or Job Titles Related to training Outcomes for Employment
Related Courses
Creative Real Estate Investing - SEF-3001A2
Course Contact Information
Community & Career Education Staff
919-532-5700