Wake Tech offers non-degree training to help you quickly learn computer programs used in today's workplaces. Condensed training taught in one- and two-day classes. 
While classes are taught at Wake Tech campuses and centers, we also can develop a course for a group and deliver that training at your office or facility.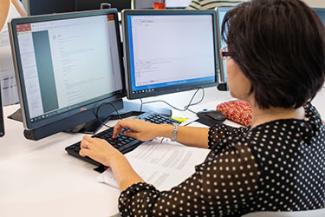 Course details and registration information
Intermediate Microsoft Excel 2019
OST-3100ADE
Many businesses rely on spreadsheets to manage budgets, schedules, and tracking. Microsoft Excel is considered the industry standard for spreadsheets. If you use Excel regularly and want to learn more advanced functions in this powerful software, this course is for you. You...
Intermediate QuickBooks 2016
ACC-3150NE
Learning how to use QuickBooks to its full potential goes beyond learning the program's basic features. Even experienced QuickBooks users struggle when applying certain business situations to QuickBooks. This course also covers many other common topics that small business o...
Intermediate Visual Basic
CSC-3110CIE
If you're a Visual Basic programmer who wants to go beyond the introductory level to create the sophisticated and powerful programs business users need, this course is for you. As you focus on database applications, you'll learn the in-demand programming skills you need to g...
Intro to Crystal Reports
DBA-3110AE
Want to "wow" people with your business reports? In this course, you'll master the techniques the pros use to produce attractive, reader-friendly reports for any audience. Designed for Crystal Reports XI, Crystal Reports 2008, and Crystal Reports 2011, this course will teach...
Introduction to Alteryx and Tableau
SEF-3001DX2
This one-day workshop provides an overview of two modern business intelligence tools, Alteryx and Tableau – alternatives to Excel. Participants will learn through hands-on activities how to use these tools to generate interactive reports.
Introduction to Computer Security
NET-3100EE
Learn why you're at risk and what you can do to protect your precious personal and business data from the outside world. This course will quickly bring you up to speed on the fundamentals of PC and network security. You will understand and explore the vulnerability of operat...
Introduction to InDesign CC
SGR-3100FE
Adobe InDesign CC is one of the industry standard applications for publishing all types of print projects. In this course, learn how to use Adobe InDesign CC software to create professional-quality letterhead, brochures, forms, eBooks, business materials, and more. You don't...
Introduction to InDesign CS6
OST-3100LE
In this Adobe InDesign CS6 class, you'll get hands-on desktop publishing training and come away knowing how to use this popular page layout software program to design and create professional-quality letterhead, business cards, brochures, PDF files that play movies, and more....
Introduction to Microsoft PowerPoint 2019/365
OST-3100AIE
This in-depth course introduces PowerPoint's functions and will teach you how to plan and create professional-quality presentations. You will learn how to catch your audience's attention with PowerPoint's visual features like photo album. As you become acquainted to Office 3...
Introduction to Networking
NET-3100AE
This course explains computer networking basics in easily-understood terms, using concepts common to everyday, non-computing experience. A brief introduction to networking history provides context, explaining how networks have become important to businesses and individuals....