Refresh your skills. Keep current. Advance your career.
Wake Tech offers non-degree training to help you quickly learn computer software skills that are necessary for today's workplace. Condensed training taught in 1 and 2-day classes. 
While classes are taught at Wake Tech campuses and centers, we can develop a course for a group of people and deliver that training at your office or facility. 
Does your employer reimburse you for training?
Contact us to learn how to take advantage of sponsored billing. 
Elizabeth Knocklein | [email protected] | 919-866-7209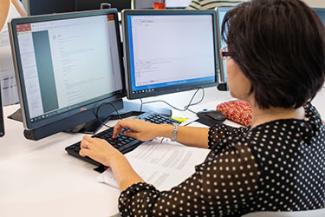 ---
Course Details & Registration Information
Adobe Illustrator Level 1
SEF-3001IB2
1 available classes
Adobe Illustrator is a widely popular software tool used to create vector graphics and illustrations such as, logos, icons, cartoons, and fonts. Learn how to apply design principles and elements. Discover how to create basic shapes, draw paths, insert text and apply graphic...
Adobe InDesign Level 1
SEF-3001ID2
1 available classes
Adobe InDesign is a desktop publishing software application used to create posters, flyers, brochures, magazines, newspapers, presentations, books and ebooks. Learn how to navigate the InDesign interface, manage page elements, and create documents using color, swatches, grad...
Adobe InDesign Level 2
SEF-3001II2
1 available classes
In this Adobe InDesign Level 2 course, you will cover advanced Adobe InDesign topics. Explore how to prepare documents for multiple formats, manage advanced page elements and styles, and build complex paths. Discover how to create interactive documents and export them for vi...
Adobe Photoshop Level 1
SEF-3001HZ2
3 available classes
Adobe Photoshop is a market leader in image editing, creation, and graphic software. The Adobe Creative Cloud (CC) application is commonly used in graphic design, web, and 3D projects. Gain the ability to create basic images, manage selections and layers, modify and repair i...
Adobe Photoshop Level 2
SEF-3001HY2
1 available classes
In this part 2 course, you will discuss advanced topics in Adobe Photoshop. Create images and use editing techniques to produce exciting visual effects. Professional or amateur photographers can learn to enhance, modify, and organize their photographs.
Electronic Notary
SEF-3001EG2
7 available classes
This process allows a notary to affix an electronic signature and notary seal that are legally binding. Participants will learn the electronic requirements to perform notary duties legally and ethically.
Grant Writing Level 1
SEF-3001MN2
1 available classes
Learn the grant writing skills that are essential for acquiring competitive funding from government agencies or private foundations. Beginners will learn the basics of writing winning grant proposals. Those with more experience will sharpen their skills and engage in discuss...
Notary Public Education (Book Included)
SEF-3001O2
15 available classes
This course is approved by the Secretary of the State of North Carolina to train, test, qualify, and commission NC notaries. Students will learn the legal, ethical, and procedural requirements for notaries based on North Carolina law. This class includes the required Notary...
Access 2016 Level 3
SEF-3001MQ2
Expand your knowledge of relational database design using Access 2016. In this course, you will learn how to write advanced queries, structure existing data, validate data entered into a database, and customize reports. On completion, you should be comfortable working with f...
Access 2016, Level 1
SEF-3001AL2
Microsoft Access is an information management tool that helps you store information for reference, reporting, and analysis. Learn this powerful database program from the ground up - and how to use it correctly. By the end of the class, you will have gained skills to manage...