Are you interested in becoming a real estate agent? Or are you a realtor who needs Continuing Education Units? Wake Tech can prepare you for the North Carolina Real Estate Commission licensing exam. We also offer classes on flipping houses, investing in real estate property and The Ageless Home™ – a class about building and remodeling homes with a universal design concept to meet the needs of all ages and abilities.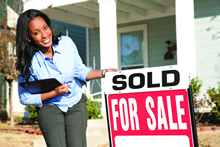 Financial assistance available
Don't have enough money to pay for a course? Right now, Wake Tech's Propel program offers scholarships that cover the cost of registration, fees, books, course-specific supplies and credentialing exams.
Course details and registration information
Course
Creative Real Estate Investing
Name
SEF-3001A2
Overall Quality of This Course
Based on 121 student surveys.
Available Classes
Intended Audience
Anyone interested in the field of analyzing properties and investing in real estate.
Description
Learn how to invest in real estate – how to find, evaluate, buy, sell, finance, and manage multiple properties. This course, for the beginning investor or the seasoned manager, includes negotiation "secrets" and teaches you about short sales, REOs, and much more.
Course Objectives
Students will be able to define basic real estate terminology, determine if real estate investing is suited for individual student, learn to buy and profit from real estate investing.
Outline of Instruction
Class 1
Introduction to Real Estate Investing
• What are the first steps to take when deciding to invest in real estate
• Are you going to be an active or passive investor
• Investing for income, capital appreciation, personal use or combination
• Is this something you will do full-time or on the sideline
• What is your time frame
• Tax benefits of Real Estate Investing
• Investing for tax considerations
• Schedule E
• De-mystifying tax questions on Real Estate Investing
Forming your Real Estate Team
Review of the steps to follow when embarking on purchasing investment property

Class 2
The most common mistakes real estate investors make and how to avoid them
• Financing or not getting financing ahead of time
• Doing everything on your own
• Overpaying
• Underestimating expenses
• Inadequate research
Building a Portfolio: How to evaluate, find and choose rental properties
• Tenant screening
• Importance of a home inspection/ negotiating on a home inspection
• Property manager pros and cons
• General good practices with tenants
• Fannie Mae Guide to Becoming a Landlord

Class 3
Building a Portfolio Part 2
• How to evaluate, find and choose rental property
• Evaluating risk and return
• Researching the market: avoiding mistakes
• Foreclosures and Short Sales: pros and cons
• Flipping properties
• What to look for before making a bid on the property. Inspections and appraisals
Financing Options for Investment Property
• Financing options for different types of properties (duplex, vacation home, etc.)
• Paying with cash vs. financing
• Equity repositioning
• What affects your interest rate and down payment terms
• Concept of leverage and what makes up the interest rate and rate of return
• De-Mystifying tax questions on Real Estate Investing
Conclusion: Making a retirement plan for your future with Real Estate Investing
Contact Hours
12
CEU's
1.2
Industry Standard, State, or National Certification
No
CE to CU Articulation
No
Prerequisites
None
Text and Supplies Needed
Provided
Clinical Site/Special Facilities
Requirements for Successful Completion of this Course
Attendance 100%
Participation
Accreditation/Special Approval Requirements
Intended Audience
Anyone interested in the field of analyzing properties and investing in real estate.
Specific Industry or Business Support Needs
Industry or Job Titles Related to training Outcomes for Employment
Related Courses
Course Contact Information
Community & Career Education Staff
919-532-5700