Are you interested in becoming a real estate agent? Or are you a realtor who needs Continuing Education Units (CEUs)? Wake Tech can prepare you for the North Carolina Real Estate Commission licensing exam. We also offer classes on flipping houses, investing in real estate property, and The Ageless Home™ -- a class about building and remodeling homes with a universal design concept to meet the needs of all ages and abilities.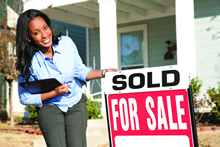 Course Details & Registration Information
Course
Real Estate Provisional Broker
Name
RLS-3700A2
Overall Quality of This Course
Based on 369 student surveys.
Available Classes
| | | Section | Location | Begin Date | End Date | Instructor | Price | Seats Available/Total Seats |
| --- | --- | --- | --- | --- | --- | --- | --- | --- |
| | | 253630 | Face-to-Face Online Instruction | 01/24/2022 | 04/20/2022 | S. Shakir | $180.00 | 0/26 |
| | | 253633 | Face-to-Face Online Instruction | 01/24/2022 | 04/20/2022 | S. Shakir | $180.00 | 0/26 |
| | | 253636 | Face-to-Face Online Instruction | 02/09/2022 | 05/04/2022 | A. Poling | $180.00 | 0/26 |
Intended Audience
Individuals seeking Real Estate license.
Description
If you'd like to work in real estate in North Carolina, this course is your first step toward licensure. This pre-licensing course meets NC Real Estate Commission requirements for submitting a provisional broker application to the state. The course introduces students to real estate principles, with a strong emphasis on real estate law and practice.
Course Objectives
Learn the basic knowledge and skills necessary to act as a licensed real estate broker in a manner that protects and serves the public interest and

Prepare for the real estate license examination
Outline of Instruction
Course Orientation and Overview
Basic Real Estate Concepts
Property Ownership and Interests
Property Taxation and Assessment
Transfer of Title to Real Property
Land Use Controls
Environmental Issues in Real Estate
Brokerage Relationships: Laws and Practice
Agency Contracts (Sales) and Related Practices
Basic Contract Law
Sales Contracts and Related Procedures
Real Estate Financing
Closing a Sales Transaction
Real Property Valuation
Landlord and Tenant
Property Management
Fair Housing
Federal Income Taxation of Home Ownership/Sale
Basic House Construction
Basic Real Estate Investment
Real Estate License Law and Commission Rules
Agent Safety
Real Estate Mathematics
Review
Final Exam
Contact Hours
90
CEU's
9
Industry Standard, State, or National Certification
Yes
Certification
North Carolina Real Estate Commission
Website URL
https://www.ncrec.gov/
Certification Learning Outcomes/Requirements
Students who successfully complete this course will qualify to apply to the NCREC to take the state exam for official licensure.
CE to CU Articulation
No
Prerequisites
To help ensure student success, participants who do not have a college degree are encouraged to obtain a Silver Level Career Readiness Certificate before taking this course.
Text and Supplies Needed
Book: "Modern Real Estate Practice in North Carolina, 10th edition" ISBN: 9781475486520
Clinical Site/Special Facilities
Requirements for Successful Completion of this Course
Attendance 80% or above
Participation
Note especially the requirements for a 75% minimum passing score on the end-of-course examination

Accreditation/Special Approval Requirements
Intended Audience
Individuals seeking Real Estate license.
Specific Industry or Business Support Needs
Industry or Job Titles Related to training Outcomes for Employment
Related Courses
Course Contact Information
Benjamin Wagoner
919-532-5636