The Non-Credit Computer Education Department delivers basic and advanced technology training so you can learn a new skill or earn an industry-recognized credential to level up to your next job. 
Many non-degree IT courses align with Wake Tech's IT degree programs, which means you can take certain "non-degree" courses and still earn college credits for that course if you enroll in a qualifying degree program.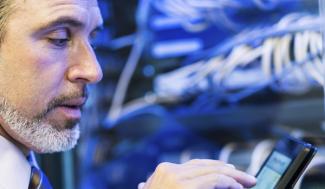 Course Details & Registration Information for All IT Courses
Cisco Certified Network Associate CCNA 200-301
NET-3100N2
1 available classes
This course is intended for participants who have completed CompTIA Network or those with equivalent experience who want to expand or certify their knowledge and skills. Topics covered will include network fundamentals, network access, IP connectivity, IP services, security...
CompTIA Certified Cybersecurity Analyst CySA+
CCT-3110D2
1 available classes
This bundled, three-series course builds on the competencies validated by the CompTIA Network and Security certification exams – or expands the knowledge of individuals with equivalent work experience. Topics include CompTIA CySA , Linux for cybersecurity, and project mana...
Data Analytics for Business Professionals
BAS-3120B2
3 available classes
Develop essential data analysis skills that are in high demand by local businesses! With this bundled course, participants will build data literacy and learn how to use business tools, including SQL, Microsoft Excel, Microsoft Power BI, Tableau, and project management - for...
IT Support Technician
CTS-3255A2
1 available classes
This program is a bundled series of three courses including CompTIA IT Fundamentals , CompTIA A 220-1001, and CompTIA A 220-1002. Participants will focus on high-demand technical and employability skills to prepare for workforce readiness or industry certification in the...
Network Technician
NET-3100O2
1 available classes
Gain technical skills and obtain industry certification; increase your employability and become workforce-ready! This course bundles LPI Linux Essentials, CompTIA Network , and CompTIA Security . In Linux Essentials, you'll learn the most popular open-source workplace applic...
Web Programmer Using HTML5, CSS, and JavaScript
CSC-3110EI2
1 available classes
This program bundles five topics: GitHub, a culture of agility, HTML, CSS, and JavaScript. By the end of the course, students should know how to use GitHub for version control and collaboration, contribute to an organization's culture of success using Agile, and identify pro...
Web Programmer Using Python and Django
CSC-3110EJ2
1 available classes
The course is for those with web development skills who want to develop additional skillsets. Students will further their knowledge using Python programming and the Django framework. Instruction will prepare students to apply programming techniques, enhance applications with...
Adobe After Effects CC
SEF-3001JU2
This software program, widely used in television and film to create motion graphics and special effects, allows users to create video, online content, and presentations. This course will show participants how to use basic animation, use 3D images, and apply advanced editing...
Adobe Premier Pro CC 2018
SEF-3001LN2
Adobe Premiere Pro CC is the leading video editing software for film, TV, and the web. Learn to edit video in Adobe Premiere Pro CC 2018 and get the most out of your workflow. Take a project from beginning to end and learn to organize media, add audio, create transitions, p...
AutoCAD 2D Fundamentals
SEF-3001JL2
AutoCAD 2D Fundamentals introduces Computer Aided Design and Drafting concepts and techniques. Using an extensive hands-on approach, users will gain techniques and understand concepts, progressing from making basic shapes to creating multi-view drawings. This course can prep...