Are you interested in becoming a real estate agent? Or are you a realtor who needs Continuing Education Units? Wake Tech can prepare you for the North Carolina Real Estate Commission licensing exam. We also offer classes on flipping houses, investing in real estate property and The Ageless Home™ – a class about building and remodeling homes with a universal design concept to meet the needs of all ages and abilities.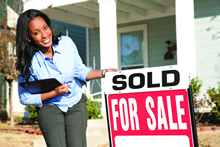 Financial assistance available
Don't have enough money to pay for a course? Right now, Wake Tech's Propel program offers scholarships that cover the cost of registration, fees, books, course-specific supplies and credentialing exams.
Course details and registration information
The Ageless Home™: Ageless Living by Design
CSP-4000JC2
If you want to buy a home, build a home, or renovate, this course will empower you to create the perfect environment for ALL ages. America's active housing population ranges from 24-78 years old. Ageless design and product placement will help you create an environment that c...