Are you interested in becoming a real estate agent? Or are you a realtor who needs Continuing Education Units (CEUs)? Wake Tech can prepare you for the North Carolina Real Estate Commission licensing exam. We also offer classes on flipping houses, investing in real estate property, and The Ageless Home™ -- a class about building and remodeling homes with a universal design concept to meet the needs of all ages and abilities.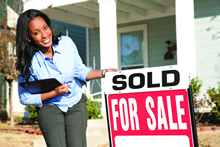 Course Details & Registration Information
Pathways to Careers in Interior Design and Home Staging
HRD-3004BG2
If you like to make a room or office look and feel beautiful, take this class to explore the world of interior design and home staging. This class will examine the job duties, work environments, and educational requirements for launching a career that will use creativity an...
Read Between The Lines: Helping Investors Understand the Numbers
RLS-3700B2
Learn how to better protect, advise and serve your clients in their real estate investments. After completion of this program, the licensee will be able to protect their client's interests by advising effectively on the purchase and strategies behind residential real estate...
Real Estate Post Licensing: Special Topic (303)
SEF-3001NO2
This is one of three 30-instructional-hour courses in the North Carolina mandatory post-licensing program. All real estate brokers in NC must complete 90 hours of training within 18 months of being initially licensed. (Classes do not have to be taken in order.) The objective...
The Ageless Home™: Ageless Living by Design
CSP-4000JC2
If you want to buy a home, build a home, or renovate, this course will empower you to create the perfect environment for ALL ages. America's active housing population ranges from 24-78 years old. Ageless design and product placement will help you create an environment that c...