Are you interested in becoming a real estate agent? Or are you a realtor who needs Continuing Education Units (CEUs)? Wake Tech can prepare you for the North Carolina Real Estate Commission licensing exam. We also offer classes on flipping houses, investing in real estate property, and The Ageless Home™ -- a class about building and remodeling homes with a universal design concept to meet the needs of all ages and abilities.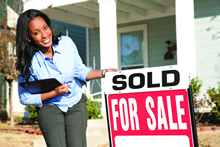 Course Details & Registration Information
Course
Real Estate Law
Name
RLS-3700AE
Available Classes
Intended Audience
This course is intended for real estate brokers and sales agents.
Description
Explore real estate law from investing to title examinations. You'll master the essentials, with examples that show you how to use this knowledge in day-to-day real estate practice or personal real estate investing. Each lesson starts with an explanation of theory and proceeds to hands-on applications to help you build a strong knowledge base. The course explains real property concepts and defines key words and phrases. You'll benefit from a wealth of resource materials such as legal forms and practical applications of lesson content.
Course Objectives
have built a strong knowledge base as you discovered how legal concepts are put into practice every day
have learned to identify key words and phrases and define them on the spot.
have learned worded descriptions of real property
Outline of Instruction
Wednesday - Lesson 01
If you've ever considered becoming a real estate broker, buying or selling a home, investing in real estate, or getting into real estate law, this is the course for you! In Lesson 1, you'll learn about the key differences between real and personal property, as well as some of the unique characteristics of land. You'll also get an overview of all the varied classifications of real property—you may be surprised by all the possibilities!
Friday - Lesson 02
If you own property, does that mean you can do anything you like with it? In today's lesson, you'll learn about what kinds of titles carry which kinds of rights. There's one type of title you'll want above all others, and you need to know about it long before you ever think about buying any real estate. We'll also look at what happens when two or more people own property together. This can get complicated, so we'll untangle who has the right to do what
Wednesday - Lesson 03
Most people don't know anything about property boundaries . . . until they're unpleasantly surprised by someone knocking down their back fence. In this lesson, you'll discover how to read and understand the different types of property descriptions, how to avoid disputes about them, and how to make this inside knowledge work for you
Friday - Lesson 04
In Lesson 4, you'll learn about the basic contract requirements involved in selling property. Don't worry, though—it's not just dry theory! I'll also introduce you to the typical people involved in a sale and walk you through the usual procedures. Then we'll dive into a topic many people regard as a potential gold mine: foreclosures. We'll straighten out some common misconceptions and see just what's involved in bidding on foreclosed property
Wednesday - Lesson 05
When you sell property, what items can you take with you and what must remain? This issue involves the law of fixtures, and most buyers and sellers don't know anything about it. But you will! You'll learn how and why a seller can remove a refrigerator but not the antique doorknobs. We'll also look at the important issue of easements, which give a non-owner the right to use part of someone else's land. Both of these topics are absolutely essential for anyone considering buying or selling real estate
Friday - Lesson 06
In this lesson, we'll track the negotiations that go on when you buy and sell real estate. You'll learn what a contract actually does, and you'll explore two of the most common real estate contracts: the "listing agreement" and the "offer to purchase and contract of sale." Then we'll follow a sale from the posting of the For Sale sign to the offers, counteroffers, rejections, and finally to the acceptance
Wednesday - Lesson 07
If you've ever been a tenant or plan to become a landlord, then you should pay particular attention to this lesson. Here we'll examine landlord-tenant law, exploring what rights and obligations each has to the other. You'll see when and how a landlord can evict a tenant and how tenants can protect themselves. And we'll walk step-by-step through the terms of a typical lease
Friday - Lesson 08
Anyone who plans on owning real estate must know about deeds. A deed simply transfers ownership rights, but if you've ever tried to read one, you know just how confusing they can be. In this lesson, we'll decipher all the parts of the deed, clarifying what each clause means and how each part impacts your ownership rights. We'll also discuss ways to make sure the owner transfers all of his or her legal rights in the property to you.
Wednesday - Lesson 09
Mortgages can be just as confusing as deeds! So in this lesson, we'll demystify them by discussing what a mortgage is, what "prequalification" and "preapproval" are, and what lenders look for before entering into a mortgage with a borrower (especially credit issues). You'll also see what types of mortgages you can choose from and understand the good and bad points of each.
Friday - Lesson 10
Real estate closings often seem overwhelming. So many papers are flying around, and if you're the buyer, you're signing things without really knowing what they are. And then there's the whole issue of closing costs, which can add several thousand dollars to the sale. In this lesson, you'll meet the people involved in a typical closing, see what documents the closing professional needs, learn about the ones a buyer must sign, and what the costs are and where they come from. By the time you finish this lesson, you'll feel much more comfortable with this process!
Wednesday - Lesson 11
Who creates zoning rules and how? What can a zoning ordinance regulate? How are they enforced? If you need to get around one, can you? These are just some of the questions you'll find answers to in this lesson. We'll also take a look at an area of law most people don't know about—but it can have a huge impact on all types of property owners. That's restrictive covenants. Last, you'll learn what kind of action you can take if your neighbor becomes a big nuisance.
Friday - Lesson 12
In our final lesson, we'll survey the various types of professions tied to real estate. If you're interested in becoming a real estate agent, you'll learn about the process here. We'll also discuss the advantages and disadvantages of real estate investing to help you decide if this is something you'd like to do. And we'll finish up by profiling other careers, such as surveyors, real estate paralegals, appraisers, inspectors, and more
Contact Hours
24
CEU's
2.4
Industry Standard, State, or National Certification
No
CE to CU Articulation
No
Prerequisites
Text and Supplies Needed
• Internet access
• Email
• One of the following browsers:
o Mozilla Firefox
o Microsoft Internet Explorer (9.0 or above)
o Google Chrome
o Safari
• Adobe PDF plug-in (a free download obtained at Adobe.com .)
Clinical Site/Special Facilities
Requirements for Successful Completion of this Course
Attendance 80% or above
Participation
Students must score 70% or better on 10 quizzes or 70% or better on the final exam
Accreditation/Special Approval Requirements
Intended Audience
This course is intended for real estate brokers and sales agents.
Specific Industry or Business Support Needs
Industry or Job Titles Related to training Outcomes for Employment
Related Courses
Course Contact Information
Non-Credit Online Learning http://ceonline.waketech.edu
919-532-5847