Wake Tech offers non-degree training to help you quickly learn computer programs used in today's workplaces. Condensed training taught in one- and two-day classes. 
While classes are taught at Wake Tech campuses and centers, we also can develop a course for a group and deliver that training at your office or facility.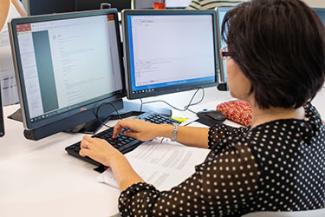 Course details and registration information
Introduction to QuickBooks 2016
ACC-3150ME
Whether you're new to QuickBooks or have already used earlier versions of this accounting software program, this course will empower you to take control of the financial accounting for your business. Learn to manage the financial aspects of your small business quickly and e...
Microsoft Excel 2019 Level 1
SEF-3001JX2
Microsoft Excel is a globally-used program essential for business and academic settings. In this part 1 of a 3-course series, students will develop foundational knowledge and skills, which can be built upon. By the end of the course, learners will be able to create and dev...
Microsoft Excel 2019 Level 3
SEF-3001OM2
Microsoft Excel has become an integral part of business around the world. It is used in organizations, academia, and personal settings to analyze, visualize, and store data. Learn how to use data analysis, auditing, Sparklines, and forecasting in Excel. You will also learn h...
Microsoft Office Excel 2016
SEF-3001LP
Learn how to use Excel more effectively, in your home or workplace. Excel is the standard spreadsheet application for personal and business use, so keeping up to date on the latest version is important for career advancement. Regardless of your level of understanding, you ca...
Performing Payroll in QuickBook 2015
ACC-3150GE
Preparing payroll in any small business is a daunting task. Whether you have one employee or 20 employees, the federal and state requirements are often the same. By using the payroll feature in QuickBooks 2015, you can master efficient techniques for creating checks, paying...
Professional Bookkeeping with QuickBooks Online (Voucher Included)
SEF-3001CHG
Master QuickBooks Online to prepare for a rewarding career in the booking field. You will learn basic bookkeeping and accounting principles, including the types of accounting information you, the business owner, manager, bookkeeper, or accountant, need to monitor. You'll the...
Technology Skills for Workplace Effectiveness
HRD-3005BH2
Improve your technology skills to enhance your potential for success in the workplace! This course will help you improve keyboarding speed and accuracy, create more effective emails, conduct efficient internet searches to find online resources, and use word processing and sp...