Wake Tech offers non-degree training to help you quickly learn computer software skills that are necessary for today's workplace. Condensed training taught in one- and two-day classes. 
While classes are taught at Wake Tech campuses and centers, we also can develop a course for a group of people and deliver that training at your office or facility. 
Does your employer reimburse you for training?
Contact Elizabeth Knocklein at [email protected] or 919-866-7209 to learn how to take advantage of sponsored billing.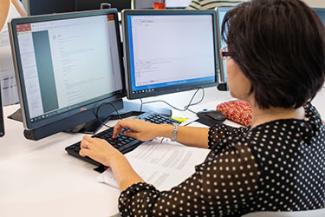 Course details and registration information
Big Data and Business Analytics Part 2
SEF-3001MS2
Data analytics has become a critical topic across the business world. Whether you work with a major corporation, small business, or non-profit entity, understanding big data and business analytics is an increasingly important and desired skill. This second course in the seri...
Career Readiness for the Professional Administrative Assistant
HRD-3004AZ2
Learn about office administration – the skills, attributes, and work values necessary for employment in the field – and how to determine if a career as an administrative assistant is right for you. This course explains the role of technology in administrative work and how to...
Grammar Refresher Part 1
SEF-3001AV2
Gain confidence in your ability to produce clean, grammatically correct work. You'll explore the basics of English grammar--like comma rules, correct punctuation and capitalization--and lots more. Reacquaint yourself with old, forgotten rules, meet some new ones, and revisit...
Grant Writing
SEF-3001MT2
Learn the basics of grant writing. During this six-hour class, you will learn the basics of writing a grant in a hands-on, workshop-type setting. We will cover the different components of grants, examples include how to set and maintain a workable grant cycle by tracking p...
Grant Writing Level 2
SEF-3001MU2
Would you like to write a grant proposal? This course will hone the essential skills for acquiring competitive funding from government agencies or private foundations. Learn more in-depth exploration of the grants process, and have hands-on practice with researching, develop...
Microsoft Excel 2019 Level 1
SEF-3001JX2
Microsoft Excel is a globally-used program essential for business and academic settings. In this part 1 of a 3-course series, students will develop foundational knowledge and skills, which can be built upon. By the end of the course, learners will be able to create and dev...
Microsoft Excel 2019 Level 3
SEF-3001OM2
Microsoft Excel has become an integral part of business around the world. It is used in organizations, academia, and personal settings to analyze, visualize, and store data. Learn how to use data analysis, auditing, Sparklines, and forecasting in Excel. You will also learn h...