Refresh your skills. Keep current. Advance your career.
Wake Tech offers non-degree training to help you quickly learn computer software skills that are necessary for today's workplace. Condensed training taught in 1 and 2-day classes. 
While classes are taught at Wake Tech campuses and centers, we can develop a course for a group of people and deliver that training at your office or facility. 
Does your employer reimburse you for training?
Contact us to learn how to take advantage of sponsored billing. 
Elizabeth Knocklein | [email protected] | 919-866-7209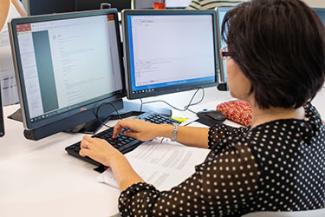 ---
Course Details & Registration Information
Access 2016, Level 2
SEF-3001AI2
Microsoft Access is a robust, functional database used to analyze large amounts of information, and manage related data more efficiently. Expand your knowledge of relational database design by learning how to write advanced queries, structure existing data, validate data en...
Administrative Professional with Microsoft Office 2016 Master
SEF-3001QG
Prepare to become an integral part of any professional office team – from small business to major corporation! Learn the foundational skills required to be a successful administrative professional. This course will also teach you Microsoft Office 2016 software and prepare yo...
Adobe Illustrator Level 2
SEF-3001IC2
In this part 2 course, you will cover advanced topics in Adobe Illustrator. Explore how to combine objects to create illustrations, paint with custom brushes, set character formats and apply effects to an object. Discover how to use painting tools, manage colors, format type...
Adobe InDesign Level 2
SEF-3001II2
In this Adobe InDesign Level 2 course, you will cover advanced Adobe InDesign topics. Explore how to prepare documents for multiple formats, manage advanced page elements and styles, and build complex paths. Discover how to create interactive documents and export them for vi...
Better Business Writing, Level 1: How to Sharpen Your Writing Style
SEF-3001AO2
Strengthen your writing by eliminating wordiness and writing more concisely. Plan your business documents to save time rewriting. With writing exercises and interactive quizzes, you'll learn the difference between active and passive voice and when to use each - and much more...
Big Data and Business Analytics Part 2
SEF-3001MS2
Data analytics has become a critical topic across the business world. Whether you work with a major corporation, small business, or non-profit entity, understanding big data and business analytics is an increasingly important and desired skill. This second course in the seri...
Career Readiness for the Professional Administrative Assistant
HRD-3004AZ2
Learn about office administration – the skills, attributes, and work values necessary for employment in the field – and how to determine if a career as an administrative assistant is right for you. This course explains the role of technology in administrative work and how to...
Computer Basics for Plus 50
CSP-4000JV2
Are you thinking about getting a new computer or upgrading to Windows 10? Computer Basics is for the inexperienced or novice adult user. By the end of this class students will have experience using the Microsoft Windows Operating system.
Computer Basics: Microsoft Windows 10
SEF-3001IO2
Do you need to improve your computer skills? If you have little or no computer experience, this course is for you. Increase your computer knowledge by learning to use Microsoft Windows 10 to understand the basics for hardware, software, and computer accessories.