Industry-recognized credential(s): CompTIA
Complete in: 6 month or less
For non-credit student support services or to see if you qualify for financial assistance, contact the Career Pathways Program & Student Resources.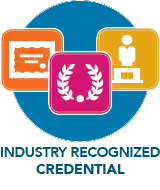 ---
Course Details & Registration Information
CompTIA IT Fundamentals+ Certification Exam FC0-U61
CET-3100F2
1 available classes
Thinking about a career in information technology? Earning this certification credential will let potential employers know you have entry-level IT knowledge and skills. The course covers information technology concepts and terminology, infrastructure, applications and softwa...
CompTIA Security+ Certification Exam SY0-501
SEF-3001GS2
2 available classes
The CompTIA Security certification is a vendor-neutral exam recognized by employers around the globe. Students enrolled in this program will gain knowledge and skills to enhance the ability to successfully pass the Security SY0-501 exam. By the end of the course, learners...
Exam Tutoring: CompTIA A+ 220-1001
SEF-3001LX2
1 available classes
To obtain CompTIA A certification, students must pass the CompTIA A 220-1001 and 220-1002 exams. The CompTIA A 220-1001 exam can validate a student's foundational knowledge of mobile devices, networking technology, hardware, virtualization, cloud computing, and network tro...
Exam Tutoring: CompTIA Network+
SEF-3001HA2
1 available classes
Popular networking job roles require the CompTIA Network credential. Students will prepare to validate their knowledge of network concepts, infrastructure, network operations, network security, and network troubleshooting and tools. The goal of the class is to prepare you f...
Exam Tutoring: CompTIA Security+
SEF-3001HB2
2 available classes
If cybersecurity is a career you're interested in, this course is for you. Passing the CompTIA Security exam will allow you to validate your knowledge and ability to perform core security functions. Students will prepare to certify their knowledge of threats, attacks and v...
Exploring Information Technology & Cybersecurity Careers
HRD-3004BO2
1 available classes
Regardless of the type of business, companies use computers to either enhance their products or improve their services. In this class, you will learn about high-demand computer and technology occupations with a focus on those involving Cisco, CompTIA, and Cybersecurity skill...
Career Seeking Skills for the IT Industry
HRD-3004AY2
If you want a job in the IT industry, now is the time! Career Seeking Skills for the IT Industry focuses on resume writing, online applications and interview techniques. Learn targeted job-seeking strategies. Examine the use of keywords and phrases for careers in IT. Review...
CompTIA A+ Certification Exam 220-1001
SEF-3001KM2
CompTIA A certification is the industry standard for beginning an IT career in today's job market. Professionals certified in CompTIA A have the knowledge and skills to be leaders in tech support. This course covers mobile devices, networking technology, hardware, virtuali...
CompTIA A+ Certification Exam 220-1002
SEF-3001LM2
Validate your knowledge and skill in cloud computing, cybersecurity, the Internet of Things (IoT), and virtualization. This course covers operating systems, security, software troubleshooting, and operational procedures, and prepares participants for the CompTIA A 220-1002...
CompTIA Advanced Security Practitioner CASP+ Exam Prep
SEF-3001KG2
Validate your advanced technical knowledge and skills for cybersecurity! As new technologies emerge – such as blockchain, cryptocurrency, and mobile device encryption – companies must have knowledgeable IT professionals familiar with security and cyber defense techniques. A...