Industry-recognized credential: ServSafe Certification (National Restaurant Association)
Complete in: 1 month or less
For non-credit student support services or to see if you qualify for financial assistance, contact the Career Pathways Program & Student Resources.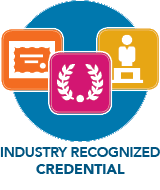 ServSafe
SEF-3001Q3
Learn the principles of safety and sanitation in the food service industry. In North Carolina, a restaurant or food service establishment can receive a two-point deduction on its health inspection grade. NC regulations now require all establishments to have a manager on dut...
ServSafe Spanish
SEF-3001V3
Aprende los principios de seguridad y sanidad en la industria del servicio de alimentos. El objetivo de este curso de dos días es capacitar a los profesionales en esta rama enfocándonos en los conceptos básicos de ServSafe® que cumple con el requisito de NC persona a cargo (...
First
|
Previous
| 1
Next
|
Last
Why choose us:  Wake Tech offers great value for your training. Instruction is paced out over 16 hours (2-day training), and we make sure that you have time to prepare before the exam. Our instructors take time to give you the knowledge you need to apply your skills in the real world, not just prepare you for the Servsafe Exam. Our instructors are people who actually work in the industry in larger companies and have hands-on experience in real world scenarios. They will provide you with examples that you can take back to work and incorporate today. 
CLASS EMPHASIZES:
Food handling practices
Hazard Analysis Critical Control Point (HACCP) system for assuring food safety
Personal hygiene habits
Safety regulations
Sanitary Facilities and Pest Management
SERVSAFE® IN ONLINE FORMAT 
Wake Tech offers SERVSAFE® training online, in addition to traditional (classroom) format. The traditional version is a two-day class for students who prefer instructor-led study and the chance to ask questions in real time. The online version is available for one month and is appropriate for those who prefer self-paced learning and flexible scheduling. Course content, testing, and certification are the same for both formats.   
How to register for ServSafe® Online
Visit workforce.waketech.edu to sign up for the ServSafe® online course.
Type ServSafe in the "Find a Class" search box. 
Once you've signed up, you will be given access to My Servsafe Lab, where you can access course materials. 
When selecting a class section, make sure to choose the online version – not the traditional version. ServSafe® online is taught in both English and Spanish. 
Examination and Certification 
Your final exam will be taken on campus, once you've completed the online course.
Your instructor will give you an exam date. Exams must be ordered, so dates may not be flexible. 
Bring the following to the final exam: 

Your official picture ID 
Pencils/erasers

Cell phones are not allowed! Phones brought into the examination room will be collected and returned after the exam. 
The exam will be proctored. The proctor will give each student an exam session number and review National Restaurant Association rules before the exam begins. 
Exam results will be available in 10-14 business days. Exams are evaluated by the National Restaurant Association. 
When you receive your exam results, you may generate your own certificate: 
Create a user ID and password in Servsafe.com.
Type in your certificate number and your exam session number.
Print your certificate. 
Where can I  purchase the books?
You can purchase the books & answer sheet from Servsafe.com or you can purchase the ServSafe Manager book and the Servsafe Answer sheet from our Wake Tech Bookstore. Please call 919-772-4204. 
Book Title: SERVSAFE MANAGER BOOK 7TH ED, ENGLISH.
If your employer is paying for the course, contact Sameer Pawa at 

[email protected]

 or 919-866-6158.
NEED A SERVSAFE CLASS OFFERED AT YOUR LOCATION?
Contact us for information about customized classes for your employees. We also offer ServSafe classes taught in Spanish.
Sameer Pawa [email protected] or 919-866-6158
---
Course Details & Registration Information