HVAC & EPA Refrigerant Recovery/Recycling Certification
Industry-recognized credential(s): EPA Refrigerant Recovery/Recycling Certification
Complete in: 3 month or less
For non-credit student support services or to see if you qualify for financial assistance, contact the Career Pathways Program & Student Resources.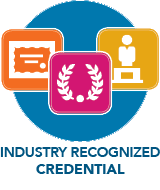 ---
Course Details & Registration Information
EPA Refrigerant Recovery/ Recycling Certification Exam Preparation
SEF-3001K7
Earning certification in a specialized area demonstrates your expertise! This course is for those with basic knowledge of HVAC who want to prepare to take the Section 608 EPA Certification exam and become certified. On completion, participants who are ready can register for...
HVAC and Duct Leakage: Proper Evaluation and Sealing
SEF-3001N7
This hands-on course provides a thorough understanding of air handling systems and the associated building envelope components, as well as how to measure existing efficiency and how to identify and implement improvement strategies. The course prepares students for the BPI In...
HVACR Certified Technician
SEF-3001LG
This unique, all-inclusive, online training program encompasses heating, ventilation, air conditioning, and refrigeration. It provides instruction in the skills required for installers and technicians seeking HVAC certification.
First
|
Previous
| 1
Next
|
Last