Recycling receptacles can be found paired with trash cans in buildings and throughout the grounds of Wake Tech's campuses. Often, the recycling receptacles have stickers or graphics on them identifying what materials can be discarded there.
Wake Tech recycles the following materials on its campuses:
Plastic bottles, glass bottles and jars, aluminum and steel cans and newspaper. Discard all plastic tops, rinse and flatten plastics.
White paper, computer/copy paper, colored paper, envelopes, index cards, fliers and brochures, notebook paper and envelopes
Ink-jet cartridges are sent to a remanufacturing company. When you order ink-jet cartridges, they come with a return package. Please put used cartridges into the envelope for return and mail them.
The following items are not recycled:
Paper cups, plastic food containers and plastic bags
Paper/binder clips, spiral notebooks, carbon paper or glossary paper. Remove the spiral metal from notebooks and recycle the paper.
College janitorial staff collects items in the blue bins around campus a couple times each week and moves them to large containers outside by dumpsters, where the material is then taken by a contractor to a nearby recycling center.
Cardboard is another major part of Wake Tech's recycling program. Often, cardboard boxes are too large to go into the blue recycling receptacles, so containers specifically for cardboard boxes are scattered across all campuses. People are encouraged to break down cardboard boxes before putting them into these containers to save space.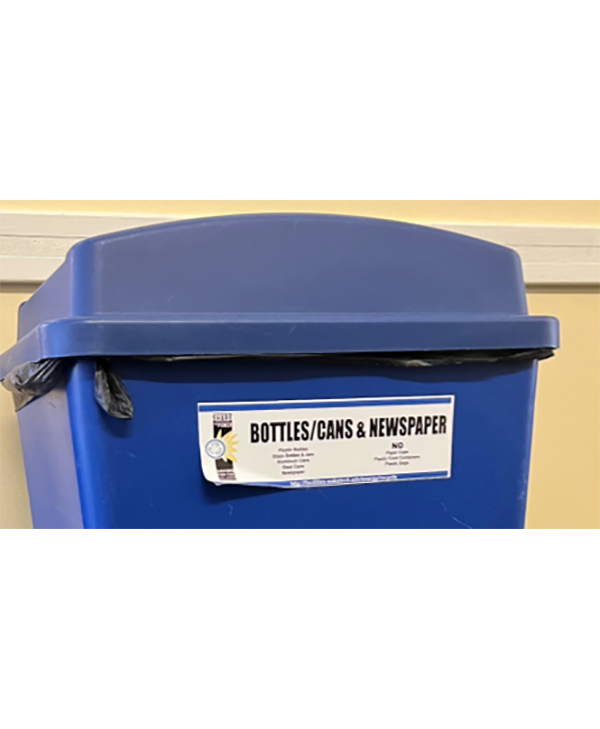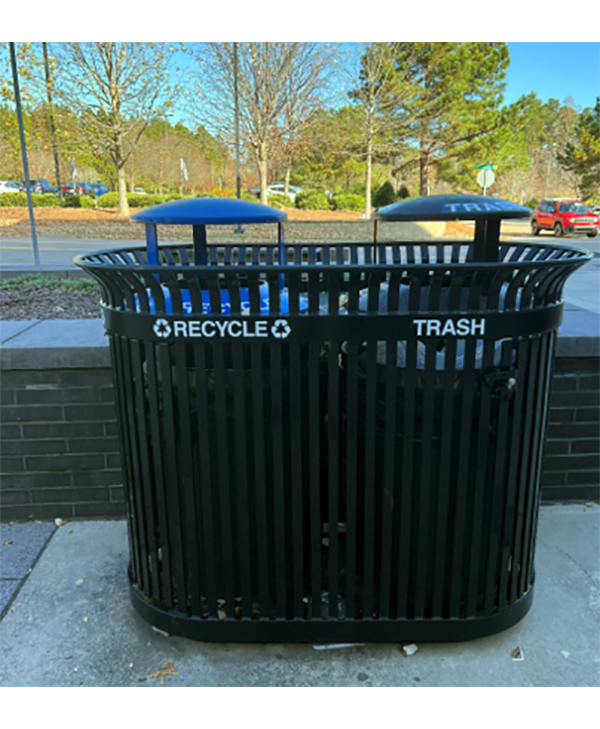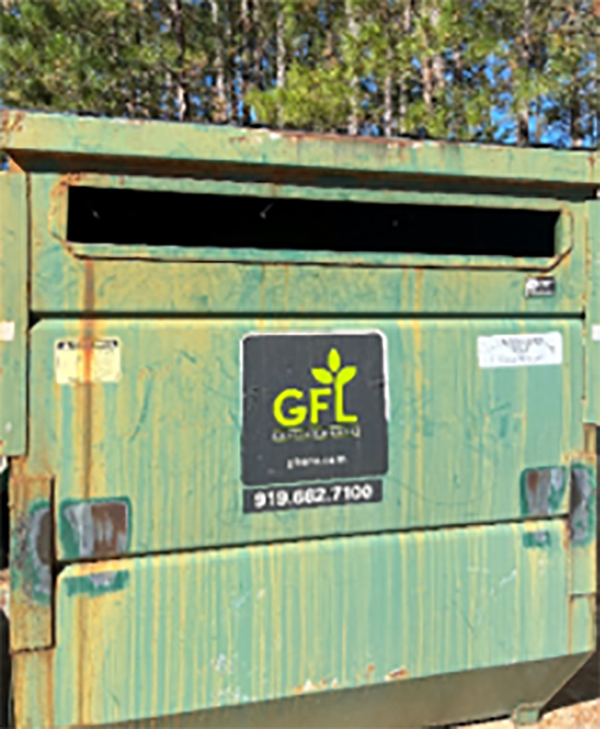 Composting
To reduce the amount of waste produced at Wake Tech, a composting program has been started on Scott Northern Wake Campus and is planned at the Eastern Wake 4.0 Central Energy Plant.
Composting involves separating food and lawn waste from other materials to allow natural processes to break them down into nutrient-rich material. Wake Tech uses that compost in native pollinator gardens.
Three food waste bins are located on the fourth floor of Building B on the Scott Northern Wake Campus, near the waste and recycling bins. Food waste with minimal fat levels – no meat, bones or dairy – works best, and eggshells, coffee grounds and even napkins can be composted.
These food waste bins are emptied weekly into compost tumblers outside the building, where it is routinely mixed and watered to speed the natural decomposition. The material can be transformed completely into compost after about four weeks.
Questions?
If you're looking for suggestions on how your class or office can improve your recycling habits or are interested in bringing composting to your classroom or campus, email [email protected] for assistance.
Frequently asked questions
Waste prevention tips
Bring a reusable or thermal plastic mug to coffee makers in break areas to avoid using paper or polystyrene foam cups.
Provide reusable coffee mugs for visitors. Use mugs and silverware instead of disposable cups and plastic or wood stirrers. Purchase sugar and creamer in bulk, rather than individually wrapped portions.
Copy articles double-sided when possible and request double-sided printing at copy centers.
Set printers and copiers to default to double-sided printing or copying. Fill an extra paper tray with paper that has already been printed on one side to use in printing draft documents.
In libraries, make copies only of materials that you really need, and use machines properly to avoid misprints.
Think about whether you need to make copies at all. Can you check out the book or journal instead of copying the article or section you want? Do you need to make so many fliers to hang around campus? Post your information online or email it instead.
Use the Print Preview function to look at documents before printing. Use spell-check and edit on the screen.
Print single-spaced for drafts and save the required double spaced copies for the final version only. (Print Preview can tell you if you are within the page limits.)
If you print it, pick it up. People often send printed documents to the network printers and fail to pick them up.
Save files and email messages electronically instead or printing hard copies.
Route items around the office or post them on a bulletin board for everyone to see instead of making separate copies for each person.
If you must use paper, choose paper that can be recycled and paper that is made from recycled content. Reuse paper that's been printed on one side for taking notes or as scrap paper.
Reuse Campus Mail envelopes if you need to distribute information on campus. For large mailings, obtain envelopes from nearby offices rather than buying brand new ones.
Before discarding any office supplies, see if anyone else could use them. Establish a mini waste exchange in your office using a storage closet or cabinet. Let others know that they should check the waste exchange for office supplies before buying new supplies.
Toner cartridges from laser printers and print cartridges from fax machines can be refilled and reconditioned. Check with the ITS Department for further details.