LEED and Green Globes Certification
Green community colleges use less energy, water and natural resources, create less waste and are healthier and more comfortable for students, faculty and staff. They also deliver lower energy and water bills, reduce greenhouse gas emissions and reduce student and faculty exposure to mold, mildew and other indoor irritants, along with lowering the incidence of flu, colds, asthma and allergies from airborne contaminants.
Constructing green buildings at community colleges is particularly important, serving as a showcase for innovative "green" techniques and methods that can be employed across the region. It also allows students to work and learn on these technologies, which will greatly benefit them as they go on into their professional careers.
LEED

Wake Tech has been incorporating sustainability into building design and construction for nearly 20 years. The Scott Northern Wake Campus, for example, became the first higher education campus to be completely LEED-certified. More than 10 buildings across four Wake Tech campuses are LEED-certified.
Leadership in Energy and Environmental Design (LEED) is the certification program for the U.S. Green Building Council. Projects pursuing LEED certification earn points across different aspects of sustainability, as well as overall health of the building environment, and based on the number of points achieved, can be rated as Certified, Silver, Gold or Platinum.
Green Globes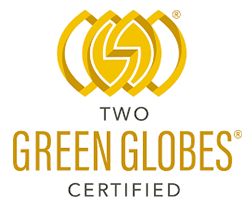 Wake Tech has started to pursue another environmental certification for buildings: Green Globes. The science-based, collaborative, user-friendly assessment and rating system from the Green Building Initiative evaluates the environmental sustainability, resilience and health and wellness of a building. The program allows building managers to select which sustainability features best fit their needs, and projects are ranked on a 0-4 Green Globes scale.
Wake Tech hopes to have the entire Eastern Wake 4.0 campus be Green Globes-certified, with the Central Energy Plant aiming to earn 4 Green Globes – the highest possible ranking.