Microsoft Office Specialist
Industry-recognized credential(s): Microsoft Office Specialist (MOS)
Complete in: 3 month or less
For non-credit student support services or to see if you qualify for financial assistance, contact the Career Pathways Program & Student Resources.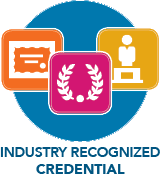 ---
Course Details & Registration Information
 
Microsoft Excel 2016 Level 1
SEF-3001JR2
2 available classes
Most organizations require individuals to have a working knowledge of Microsoft Excel. This popular program is used for storing, organizing, and manipulating data. After completing this first course in the four-part series, participants will be able to use common terms, crea...
Microsoft Excel 2016 Level 2
SEF-3001JS2
2 available classes
Microsoft Excel is a widely-used application. This popular spreadsheet program is essential to businesses, academia, and personal data organization. After completing this second course in the four-part series, participants will be able to effectively manage workbooks by us...
Access 2016, Level 1
SEF-3001AL2
Learn this powerful database program from the ground up – and how to use it correctly. This introductory course gives an overview of design essentials and provides hands-on guidance for creating tables and queries. You'll also get a sneak peek at forms and reports!
Administrative Professional with Microsoft Office 2016 Master
SEF-3001QG
Prepare to become an integral part of any professional office team – from small business to major corporation! Learn the foundational skills required to be a successful administrative professional. This course will also teach you Microsoft Office 2016 software and prepare yo...
Career Seeking Skills for the IT Industry
HRD-3004AY2
If you want a job in the IT industry, now is the time! Career Seeking Skills for the IT Industry focuses on resume writing, online applications and interview techniques. Learn targeted job-seeking strategies. Examine the use of keywords and phrases for careers in IT. Review...
Microsoft Excel 2016 Certification Core 77-727
SEF-3001HI2
Excel is Microsoft's popular spreadsheet program that allows users to enter and manipulate data. When you successfully pass the Microsoft Office Excel 2016 Core credential, you can evidence a fundamental understanding of the Excel environment. This course will cover all exam...
Microsoft Excel 2016 Level 3
SEF-3001JT2
Microsoft Excel is the most widely-used spreadsheet program in business and academia. After completing this third course in the four-part series, participants will be able to analyze large amounts of data and extract actionable information. Students will gain skills to wor...
MTA: Security Fundamentals 98-367
SEF-3001KY2
Microsoft Technology Associate (MTA) is an entry-level credential for those who want a technology career. Course instruction aims to prepare students to pass the 98-367 Security Fundamentals exam to measure and validate technical skills and knowledge. The course covers exam...
Outlook Level 2
SEF-3001HM2
You will build on skills gained in Outlook Level 1 by gaining a more in-depth understanding of the Outlook productivity application. Topics such as how to customize mail accounts, perform advanced searches, create rules to automate tasks, and manage calendar options will all...
First
|
Previous
| 1
Next
|
Last