Industry-recognized credential(s): CompTIA
Complete in: 6 month or less
For non-credit student support services or to see if you qualify for financial assistance, contact the Career Pathways Program & Student Resources.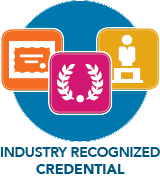 ---
Course Details & Registration Information
Exploring Information Technology & Cybersecurity Careers
HRD-3004BO2
3 available classes
Regardless of the type of business, companies use computers to either enhance their products or improve their services. In this class, you will learn about high-demand computer and technology occupations with a focus on those involving Cisco, CompTIA, and Cybersecurity skill...
Career Seeking Skills for the IT Industry
HRD-3004AY2
If you want a job in the IT industry, now is the time! Career Seeking Skills for the IT Industry focuses on resume writing, online applications and interview techniques. Learn targeted job-seeking strategies. Examine the use of keywords and phrases for careers in IT. Review...
CompTIA A+ Certification Exam 220-902
SEF-3001GM2
Are you interested in successfully passing the CompTIA A 220-902 exam? By the end of the course, you will be able to troubleshoot applications, operating systems, and security-related activities. You must pass both the 220-901 and 220-902 exams to obtain the CompTIA A cert...
CompTIA Advanced Security Practitioner CASP+ Exam Prep
SEF-3001KG2
Validate your advanced technical knowledge and skills for cybersecurity! As new technologies emerge – such as blockchain, cryptocurrency, and mobile device encryption – companies must have knowledgeable IT professionals familiar with security and cyber defense techniques. A...
CompTIA Cloud+ CVO-002
SEF-3001HT2
To reduce expenses, a majority of organizations have moved to cloud computing. Learn the basic cloud terminology and concepts. IT professionals who have the ability to analyze, evaluate, design, and test cloud computing solutions are in high demand. Research how to implemen...
CompTIA Cybersecurity Analyst+ CySA+ CS0-001
SEF-3001HS2
Attackers are developing and implementing ways to circumvent traditional methods that protect a network's security. As the need grows for IT security professionals to protect the intellectual property of organizations, you can gain the knowledge and skills necessary to secur...
CompTIA Linux+ XK0-004 Certification
SEF-3001KZ2
Are you a computer support professional with a basic knowledge of computer hardware, software, and operating systems? More than half of the world's servers run on Linux Operating Systems. This course prepares you to pass the Linux XK0-004 certification. With this credential...
CompTIA Project+ PK0-004
SEF-3001HU2
Learn how to plan, initiate, and manage information technology projects. Discover how to be able to apply effective project management techniques to improve the efficiency of projects. Obtaining the Project PK0-004 certification gives you a competitive advantage with compa...
CompTIA Server+ SK0-004
SEF-3001HR2
There are millions of servers connected to the Internet, running continuously throughout the world. The CompTIA Server certification course will show you disaster recovery procedures, backups, and server restorations. By the end of the course, you will understand how to ins...
Exam Tutoring: CompTIA A+ 220-902
SEF-3001GX2
This course is on the second part of certification. Passing the second exam can validate your foundation of knowledge in Windows operating systems, other operating systems and technologies, security, operational procedures, and software troubleshooting. The class aims to pre...