SAT and ACT Exam Preparation
Do you have test anxiety or just need an overview before you take the SAT® or ACT® exam? Wake Tech can help. We have structured programs to help you prepare, review and practice testing:
Credentialed faculty with 30+ years of experience
Immediate, personalized feedback to allow you to focus your efforts
Small group instruction that builds confidence
Opportunities to hone skills and master test-taking strategies
Practice tests to measure progress and identify strengths and weaknesses during the course
Weekend scheduling at convenient times
All books, materials and practice tests are included in the price of the course.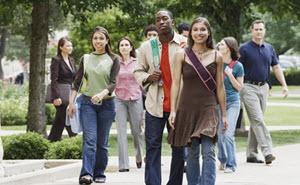 Course details and registration information
Course
SAT Exam Prep
Name
CSP-4000GV2
Overall Quality of This Course
Based on 86 student surveys.
Available Classes
Description
Register now for the SAT exam prep course, featuring in-person and small-group instruction from experienced faculty. Learn test-taking strategies, review content, and receive personalized feedback in a small classroom setting. Each student will receive a copy of the SAT Prep study guide.
Course Objectives
learn test taking strategies to prepare them to boost their chance of a higher test score.
Outline of Instruction
Day 1
1) Introduction
a) Administrative
b) Discuss scores and target scores
c) Discuss major focus
2) Untimed practice test (subject specific)
a) Use Circle First strategy*
b) Encourage students to skip and come back
Break (15 min.)
c) Review correct answer choices
d) Identify cause of wrong answers
3) Overview of subject specific test
a) Time limit
i) Overall
ii) Per question
b) Types of questions
c) Format of questions/answers
d) General strategies for testing
i) Circle First
ii) Consistent-C
Break (15 min)
4) Timed practice test
a) Review answers
b) If time permits, go over mistakes
5) Assign practice test for homework
Day 2/3
1) Review homework practice test. Go over questions students don't understand.
2) Introduce students to online resources. Explain how to get to them and how to use them for study.
a) http://www.englishgrammar.org/
b) https://www.khanacademy.org/ (for SAT)
c) http://www.mathplanet.com/
d) http://blog.prepscholar.com/the-only-actual-science-you-have-to-know-for-act-science (ACT Science)
3) Untimed practice test
Break (15 min)
4) Skill or test-specific instruction
5) Timed practice test
Break (15 min.)
6) Review answer choices. Students work in groups to figure out correct answers for missed questions
7) Go over questions groups cannot figure out. Model using a website like one listed above.
8) Assign practice test as homework
Contact Hours
18
CEU's
No
Industry Standard, State, or National Certification
No
CE to CU Articulation
No
Prerequisites
Text and Supplies Needed
The Official SAT Study Guide
Clinical Site/Special Facilities
Requirements for Successful Completion of this Course
Attendance 90% or above
Participation
Accreditation/Special Approval Requirements
Intended Audience
Specific Industry or Business Support Needs
Industry or Job Titles Related to training Outcomes for Employment
Related Courses
Course Contact Information
Community & Career Education Staff
919-532-5700