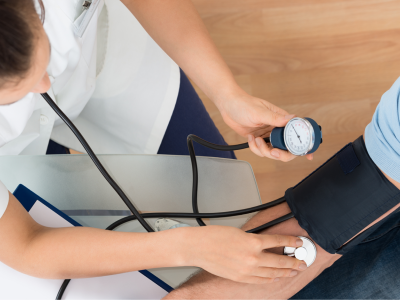 Program Contact
Health Sciences Admissions
Degrees & Pathways
AAS - Associate in Applied Science
Diploma
About The Program
The Medical Assisting Diploma program at Wake Tech Community College prepares multi-skilled health care professionals to perform administrative, clinical, and laboratory procedures. Wake Tech offers both a one-year diploma and a two-year Associate in Applied Science degree in Medical Assisting.
The Diploma program is a full-time day program, with classes being taught online, hybrid and seated at the Perry Health Sciences Campus, which is off Sunnybrook Road adjacent to Wake Med in Raleigh, NC.  Please note that only a few classes are taught online.  This program cannot be completed online. After completion of the Medical Assisting Diploma, a student is eligible to take a medical assisting credentialing exam (CMA-AAMA or RMA-AMT), and then find employment as a credentialed medical assistant. The Medical Assisting Associates degree courses include all of the Medical Assisting Diploma courses; as well as three medical assisting associates degree courses, which are offered online, and four additional general education courses. 
Coursework includes instruction in scheduling appointments, coding and processing insurance accounts, billing, collections, and computer operations; assisting with examinations and treatments; performing routine laboratory procedures; electro-cardiography; supervised medication administration; and the legal and ethical issues associated with patient care. Employment opportunities include physicians' offices, health maintenance organizations, health departments, and hospitals. 
Accreditation & Certification
Wake Tech's Medical Assisting program is accredited by the Commission on Accreditation of Allied Health Education Programs (www.caahep.org) upon the recommendation of Medical Assisting Education Review Board (MAERB).
Commission on Accreditation of Allied Health Education Programs (CAAHEP)
9355 113th Street N., #7709
Seminole, FL 33775-7709
727-210-2350
www.caahep.org
Graduates of CAAHEP-accredited medical assisting programs may be eligible to sit for the American Association of Medical Assistants' Certification Examination to become Certified Medical Assistants or CMAs.
American Association of Medical Assistants
20 N. Wacker Dr., Ste. 1575
Chicago, IL 60606
312/899-1500 or 800/228-2262
http://www.aama-ntl.org
Program Contact: Health Sciences Admissions
Office Phone: 919-747-0402