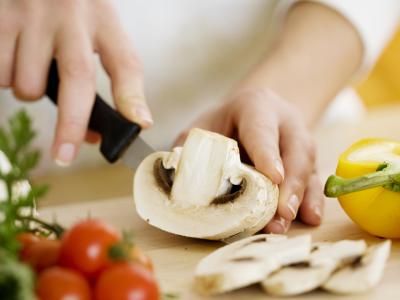 Program Contact
Jeff Hadley
Degrees & Pathways
AAS - Associate in Applied Science
Diploma
Certificates
About The Program
The Culinary Arts program prepares students to assume positions as culinary professionals in a variety of food service settings, including full-service restaurants, hotels, resorts, clubs, catering operations, contract food services, and health facilities. With experience, graduates may advance to positions such as sous chef, executive chef, or food services manager.
The program provides students with the critical competencies to compete in the job market – and to successfully meet the requirements and demands of the industry. The curriculum includes a strong theoretical knowledge base, extensive practical applications and skill-building, and an emphasis on professionalism.
Orientation Sessions 
Thursday, December 9, 4-5 p.m. – In-person Orientation – Flavors Restaurant
Tuesday, December 14, 9-10 a.m. - In-person Orientation – Flavors Restaurant
Wednesday, January 5, 9-10 a.m. - In-person Orientation – Flavors Restaurant
Please contact Department Head Jeff Hadley at [email protected] with any questions.
Accreditation and Industry-Recognized Certification 
Wake Tech's Culinary Arts program is accredited by the American Culinary Federation. Graduates of ACF-accredited postsecondary degree or certificate/diploma programs are eligible to receive a Certified Culinarian® (CC®) certification or Certified Pastry Cook, without paying any fees or taking any separate exams. Graduates must provide a final transcript verifying graduation and documentation of ACF membership. Certificate/Diploma graduates must also document one year of entry-level work experience to receive certification. Application and documentation must be submitted within one year of graduation. 
Professional Association Membership Opportunities  
The local ACF chapter is the ACF North Carolina Chapter. As a student in Culinary Arts, you have the option of becoming a junior member of this professional association of chefs, the largest in the nation. As a paid junior member, you automatically receive certification upon graduation. Regardless of your membership status, however, you are welcome to attend monthly meetings. Check the bulletin board for dates, times, and location. 
For questions about the ACF or Triangle Chefs Association contact Jeff Hadley 
Culinary Arts Program Highlights
Accredited by the American Culinary Federation (ACF) and the Southern Association of Colleges and Schools (SACS)
Low student/teacher ratio at 12:1
Entry-level classes offered every semester. You can get started anytime!
Daytime and evening classes to fit busy schedules
Instructors with wide-ranging culinary experience and education
Program Outcomes and Success Measures
AAS Culinary Arts
Student Graduation Rate: 43%
Student Job Placement Rate: 100%
Student ACF certifications: 0%
AAS Baking and Pastry Arts
Student Graduation Rate: 47%
Student Job Placement Rate: 100%
Student ACF certifications: 0%
---
AAS Culinary Arts
Student Graduation Rate: 46%
Student Job Placement Rate: 100%
Student ACF certifications: .1%
AAS Baking and Pastry Arts
Student Graduation Rate: 42%
Student Job Placement Rate: 97%
Student ACF certifications: 0%
---