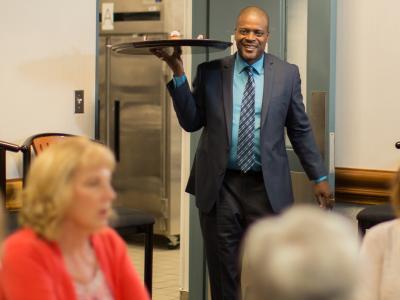 Key Info
Program Contact
Jeff Hadley
Degrees & Pathways
AAS - Associate in Applied Science
Diploma
Certificates
About The Program
The Hospitality Management program prepares students for professional positions in hotels, motels, resorts, inns, restaurants, clubs, and other institutions. Graduates should qualify for supervisory or entry-level managerial positions in the front office, reservations, housekeeping, purchasing, dining room, and marketing. Opportunities are also available in food and equipment sales.
The curriculum allows students to build and apply the administrative and practical skills essential for success in the hospitality industry. Coursework includes front office management, food preparation, guest services, sanitation, menu writing, quality management, purchasing, and much more.
Students may choose a restaurant or hotel option within the Hospitality Management degree program. Certificates in Restaurant Management and Hotel Management are also available.
Beginning in Fall 2020, all new students must attend one of the mandatory orientation sessions listed below. Students may attend either the Baking and Pastry Arts Orientation at the Scott Northern Wake Campus OR the Culinary/Hospitality Orientation at the Southern Wake Campus. 
Wed, May 6, 6:00 p.m. - Scott Northern Wake Campus
Thu, May 7, 6:00 p.m. - Southern Wake Campus
Mon, May 18, 6:00 p.m. - Southern Wake Campus
Mon, May 18, 6:00 p.m. - Scott Northern Wake Campus
Mon, July 20, 6:00 p.m. - Scott Northern Wake Campus
Tue, July 21, 6:00 p.m. - Southern Wake Campus
Wed, July 29, 10:00 a.m. - Southern Wake Campus
Wed, August 12, 6:00 p.m. - Scott Northern Wake Campus
Thu, August 13, 6:00 p.m. - Southern Wake Campus
For more information, contact either Caralyn House or Jeff Hadley