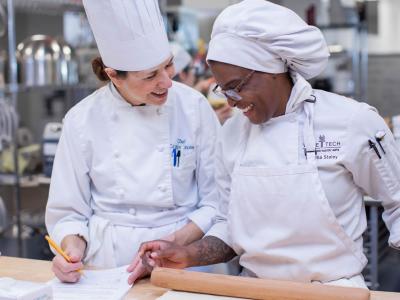 Program Contact
Jeff Hadley
Degrees & Pathways
AAS - Associate in Applied Science
Diploma
Certificates
About The Program
Prepare for an exciting career with Wake Tech's associate's degree program in Baking & Pastry Arts – or choose a certificate or diploma option that can be completed in less time. Daytime and evening classes are available to accommodate busy schedules.
Baking & Pastry Arts programs prepare students for quick entry into the industry, in a variety of positions: baking/ pastry assistant, area pastry chef, and assistant pastry chef, among others. With experience, graduates can advance from entry-level positions to pastry chef, cake designer, or bakery manager.
Employment opportunities include restaurants, hotels, independent bakeries and pastry shops, wholesale and retail markets, and high-volume bakeries. The programs also provide students with the skills and knowledge to start their own businesses.
Upcoming Orientation Sessions
All Orientation Sessions are in-person and will last about one hour.
Scott Northern Wake Campus - Building K / Room 155
Monday, July 26, 6:00 p.m.
Monday, August 9, 9:00 a.m.
Monday, August 9, 6:00 p.m.
We will update the website when further information is available.  Please contact Department Head Jeff Hadley at [email protected] with any questions.
Baking Program
Baking Degree classes are held at the Scott Northern Wake Campus Kitchens
6700 Perry Creek Road, Bldg K, Room 155
**Google Map Location**
1:12 Chef to Student Ratio
Baking classes are scheduled for 8-week mini-mesters.

For more information, contact: 
Chef Caralyn House, Program Director - 919-532-5969
Program Outcomes and Success Measures
AAS Culinary Arts
Student Graduation Rate: 43%
Student Job Placement Rate: 100%
Student ACF certifications: 0%
AAS Baking and Pastry Arts
Student Graduation Rate: 47%
Student Job Placement Rate: 100%
Student ACF certifications: 0%
---
AAS Culinary Arts
Student Graduation Rate: 46%
Student Job Placement Rate: 100%
Student ACF certifications: .1%
AAS Baking and Pastry Arts
Student Graduation Rate: 42%
Student Job Placement Rate: 97%
Student ACF certifications: 0%
---