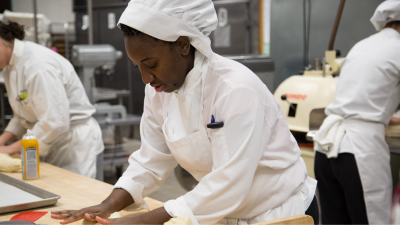 About The Program
Program Contact
Jeff Hadley
Degrees & Pathways
AAS - Associate in Applied Science
Diploma
Certificate
Spring semester orientations are being held at the new North Campus Kitchen, Building K room 155 on the following dates and times:
Monday, December 18 at 9 am
Monday December 18 at 6:30 pm
Please contact Caralyn House at cmhouse@waketech.edu for more information.
The Baking Degree Program has moved!
Baking Degree classes are now held at the new Northern Wake Campus kitchens
6600 Louisburg Road, Bldg. K, Room 155
Baking classes are now scheduled for 8-week mini-mesters. 
For more information, contact: 
                Chef Jeff Hadley, Department Head - 919-866-5990
                Chef Caralyn House, Associate Department Head - 919-532-5969
Prepare for an exciting career with Wake Tech's two-year associate's degree program in Baking & Pastry Arts – or choose a certificate or diploma option that can be completed in less time. Daytime and evening classes are available to accommodate busy schedules.
Baking & Pastry Arts programs prepare students for quick entry into the industry, in a variety of positions: baking/ pastry assistant, area pastry chef, and assistant pastry chef, among others. With experience, graduates can advance from entry-level positions to pastry chef, cake designer, or bakery manager.
Employment opportunities include restaurants, hotels, independent bakeries and pastry shops, wholesale and retail markets, and high-volume bakeries. The programs also provide students with the skills and knowledge to start their own businesses.
Bean-to-Bar Chocolate Shop - WTCC graduate, Megan Peters and her dad opened a shop in Winston-Salem which was featured on UNC-TV.  View between time 15:50 - 21:15.  
The Baking & Pastry Arts degree provides students with theoretical knowledge and practical, hands-on training in the areas of:
Artisan and Specialty Breads
Special Occasion and Wedding Cake Decorating
Buffet and Plated Desserts
Restaurant Production Desserts and Breads
Petits Fours and Pastries
Classical and European Pastries
Chocolate Artistry
Sugar Confections and Show Pieces
Pastry Show and Competition Pastries
---
CULINARY COMPETITION RESULTS - 11/29/2016
60 student entries from 2 culinary schools.
Categories
Wake Tech Students
Art Institute 
of Raleigh Durham
Cold food plates and platters 
 
 
Single tier decorated cake 
 
1 bronze
Buffet platters 
1 bronze
1 silver
Wedding cakes
4 bronze, 4 silver
 
Novelty cakes 
2 bronze, 1 silver
 
Sugar Showpieces
9 bronze, 5 silver, 2 gold
 
Bread Display
5 bronze, 5 silver, 2 gold
 
Totals
21 bronze, 15 silver, 4 gold
Total: 40 WTCC medals