Employee Tuition Assistance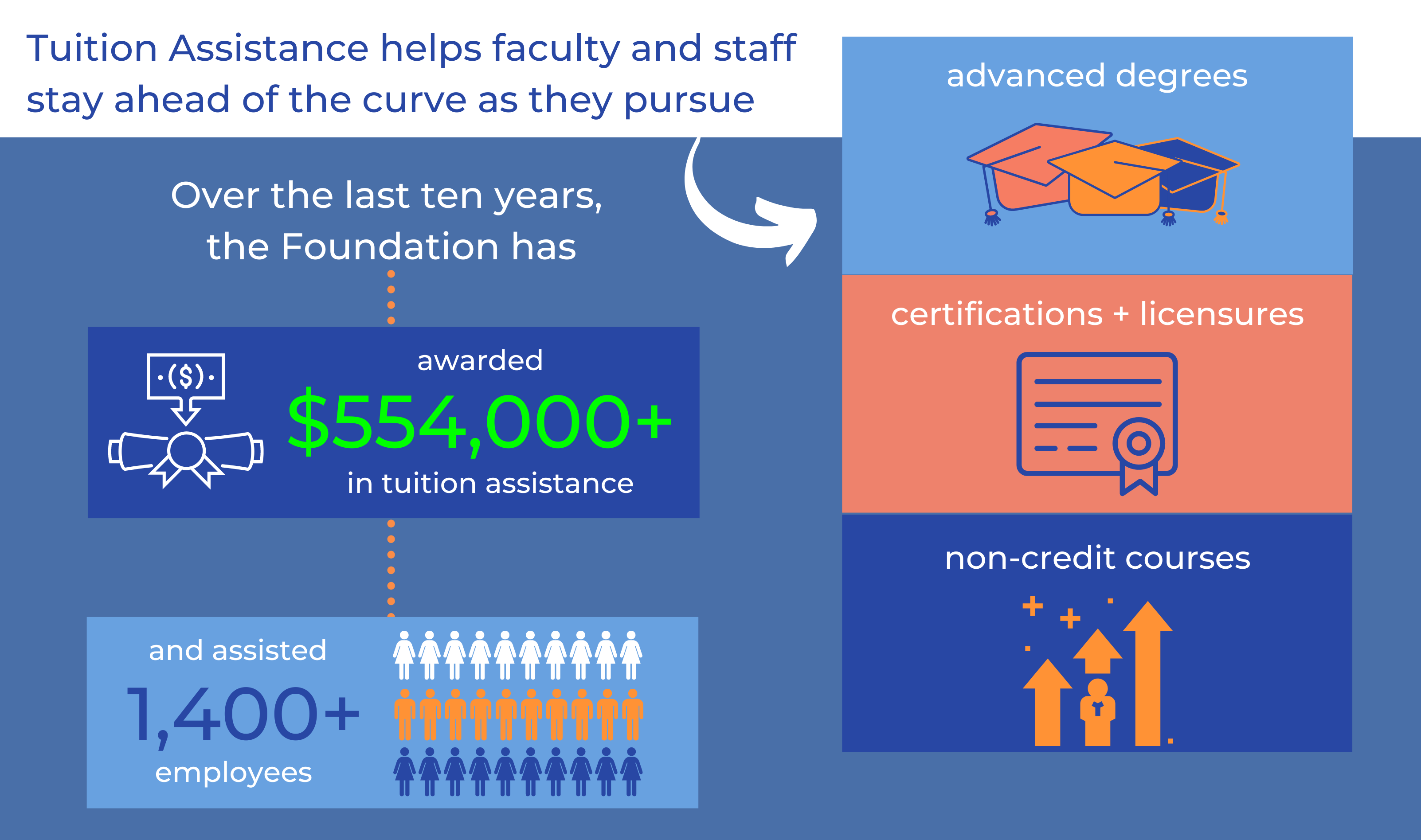 The Wake Tech Foundation's Employee Tuition Assistance (ETA) program proudly supports faculty and staff in advancing their education and career skills. Eligible employees may receive up to $3,000 per academic year (Fall, Spring, Summer). That total may be requested in one term or spread out over the academic year.
Coursework must be pre-approved through an application, and funds are awarded on a reimbursement basis upon successful course completion.
The ETA application is open year-round, but it must be submitted before or during your coursework. Applications submitted on or after your course end date will not be accepted.
Applications received by the 10th of any month will receive a decision by the 10th of the following month.
There is no blanket approval for a continuing course of study, such as pursuing a master's degree, so employees must reapply each term to provide course details.
Wake Tech also offers a free course benefit for employees taking a course at the college.
NOTE: The ETA covers tuition costs only. Student fees, books, etc., are ineligible for reimbursement.
Eligibility
Employees
Applicants must have one year of full-time (benefit-earning) employment as of the application date and be in good standing with the college with no HR issues.
Applicants also must have contributed to the Foundation within one calendar year prior to the application date.
Courses
Credit courses must be offered by a regionally accredited institution.
Non-credit courses must be sponsored by an appropriate agency.
For certification and licensure programs, you must first speak with your supervisor to see if departmental professional development funds are available.
Email any course changes as soon as possible to Betsy Beaird at

[email protected]

. Notifications on or after your course end date will not be accepted.
Reimbursement
Payment of ETA funds is on a reimbursement basis. You must pay for class(es) up front and request reimbursement at the end of the course(s).
Grants or scholarships from other sources may not equal or exceed tuition costs. Outside scholarships and grants will be applied to your tuition first.
Reimbursement must be requested within 60 days of the course end date.
Your coursework must have been previously approved, and you must receive the following grades to be eligible for reimbursement:

Associate level: C or higher
Undergraduate level: C or higher
Graduate level: B or higher
Pass/Fail courses: Course result, accompanied by a copy of the institution's grading policy
Certification, licensure and ungraded courses: Accompanied by documentation of successful completion
NOTE: ETA recipients who voluntarily leave Wake Tech must repay the Foundation the total amount received during the academic year prior to their separation date. This amount will be withheld from the employee's final paycheck.
Requesting reimbursement
Email the following as PDF files to both Lesia Johnson ([email protected]) and Betsy Beaird ([email protected]):
A completed Reimbursement Request form
A grade report or unofficial transcript (screenshots are accepted but must show your name)
A full statement/account summary of the tuition costs and payment
Free Wake Tech course benefit
Employees taking a Wake Tech course must first use the college's Tuition Exemption benefit, which offers one free course* per semester to employees. Contact Human Resources for more information. If you are taking more than one Wake Tech course, use the Tuition Exemption benefit first, then apply for ETA for the remaining course(s).
*The college's benefit does not cover self-supporting classes, which charge fees instead of tuition. Apply for ETA if you are taking a Wake Tech self-supporting course.
Questions?
Please contact Betsy Beaird in the Wake Tech Foundation at [email protected] or 919-866-5350.