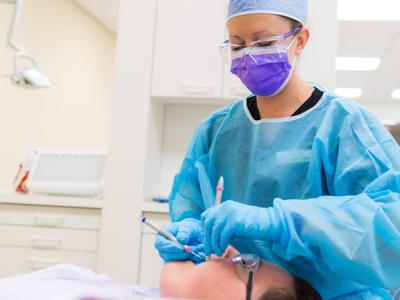 Program Contact
Health Sciences Admissions
Degrees & Pathways
AAS - Associate in Applied Science
About The Program
The Dental Hygiene program prepares students to assess, plan, implement and evaluate dental hygiene care for individual patients and the community, promoting total wellness by advancing oral health in the state of North Carolina.
Faculty provide a comprehensive approach to student development that includes and encourages professionalism and critical, independent thinking while encouraging students to accept responsibility for their own learning. The department is committed to providing collaborative educational programs for a culturally diverse student population.
The Dental Hygiene clinic, on the Perry Health Sciences campus, houses 23 dental units, four radiography units, one panoramic X-ray machine, digital radiography equipment (imaging plates with scanners and corded sensors), intraoral cameras, cavitrons and prophy jets. In addition, each dental unit has computer access for patient records and education.
Employment
Potential employers may post a job opening ad free on Handshake. Postings may be for dental hygienists, dental assistants, front desk, etc.
Dental Hygiene also has a closed alumni Facebook page where the administrator posts job openings for all alumni who have access to Facebook. If you wish to place an opening on this page, email the job posting to Department Head Brenda Maddox at [email protected].
In addition, as part of a Professional Development course each spring, the program hosts an Employer Engagement Fair where potential employers meet with graduating students. Employers are invited to set up a table where students rotate through and learn about employment opportunities.
With the number of requests received, we are unable to schedule individual lunch-and-learns or utilize class time, but we are willing to share presentations, fliers, emails, etc., with students.
Accreditation
The Dental Hygiene program is accredited by the Commission on Dental Accreditation (CODA) and has been granted the accreditation status of Accredited Without Reporting Requirements. The commission is a specialized accrediting body recognized by the U.S. Department of Education.
To file a complaint or for more information, CODA can be contacted by phone at 312-440-4653, online or by mail at 211 E. Chicago Ave., Chicago, IL 60611-2678.
Licensure
Upon successful completion of the program, Dental Hygiene graduates may be eligible to take national, regional and state board examinations leading to licensure. In most states, licensure results in the credentials RDH – Registered Dental Hygienist.
The American Dental Association (ADA) administers the National Dental Hygiene Board Examination each year. The exam is presented in an electronic format and consists of multiple-choice questions.
The State of North Carolina uses a regional exam, sponsored by the Council of Interstate Testing Agencies as the clinical exam.
Information on applying for licensure in North Carolina can be found on the State Board of Dental Examiners website. Applicants for licensure must also successfully pass written, open-book, online exams on jurisprudence and on sterilization and infection control.
Current federal law does not allow undocumented individuals to obtain a professional license, including a dental hygiene license in North Carolina. Applicants must be a U.S. citizen or possess resident alien status to be eligible for licensure.
Wake Tech academic programs (credit and non-credit) that are designed to lead to professional licenses are either tied to North Carolina or national certifications.
If you intend to pursue professional licenses outside North Carolina once you have completed your academic program at Wake Tech, please refer to the Professional Licensure section on the college's distance education authorization page for additional information.
Most states also post online information on state board of dentistry websites or on professional licensing websites.
Program Contact: Health Sciences Admissions
Office Phone: 919-747-0402