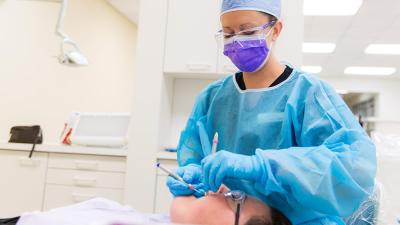 About The Program
Program Contact
Perry Health Sciences Admissions
Degrees & Pathways
AAS - Associate in Applied Science
Wake Tech's Dental Hygiene program prepares students to assess, plan, implement, and evaluate dental hygiene care for individual patients and for the community. The program was established as an AAS program on the Perry Health Sciences Campus in the fall of 2002.
Dental Assisting and Dental Hygiene Boot Camp
Mission Statement
The mission of the Dental Hygiene Department is to promote total wellness by advancing oral health in the state of North Carolina through quality education and service. This mission is consistent with the missions of the Health Sciences Division and Wake Technical Community College.
Philosophy
The Dental Hygiene program is founded on humanistic teaching, service, scholarly endeavors, and patient care. The learning environment stimulates the discovery of new knowledge through effective communication. Mutual respect among faculty, staff, and students must be demonstrated in all endeavors. The primary responsibility of the faculty is to provide a comprehensive approach to student development that includes and encourages professionalism and critical, independent thinking – while encouraging students to accept responsibility for their own learning. Ultimately, the department is committed to providing collaborative educational programs for a culturally-diverse student population, with the goal of optimizing each student's growth, achievement, and maturation as a professional.
Accreditation
The Dental Hygiene program was granted the Accreditation Status of Approval Without Reporting Requirements by the American Dental Association Commission on Dental Accreditation at its 2011 site visit. This status is awarded to an educational program indicating that the program achieves or exceeds the requirements for accreditation. Site visits occur every seven years.
A copy of the Dental Hygiene Accreditation Standards and CODA Policies and Procedures, including those for complaints, may be found online at American Dental Association (ADA) or obtained by calling 1-800-621-8099 or writing to ADA, 211 East Chicago Avenue, Chicago IL  60611.
Program Contact: Perry Health Sciences Admissions
Office Phone: 919-747-0402