Around WakeTech
Business Leaders Get Sneak Peek of New RTP Campus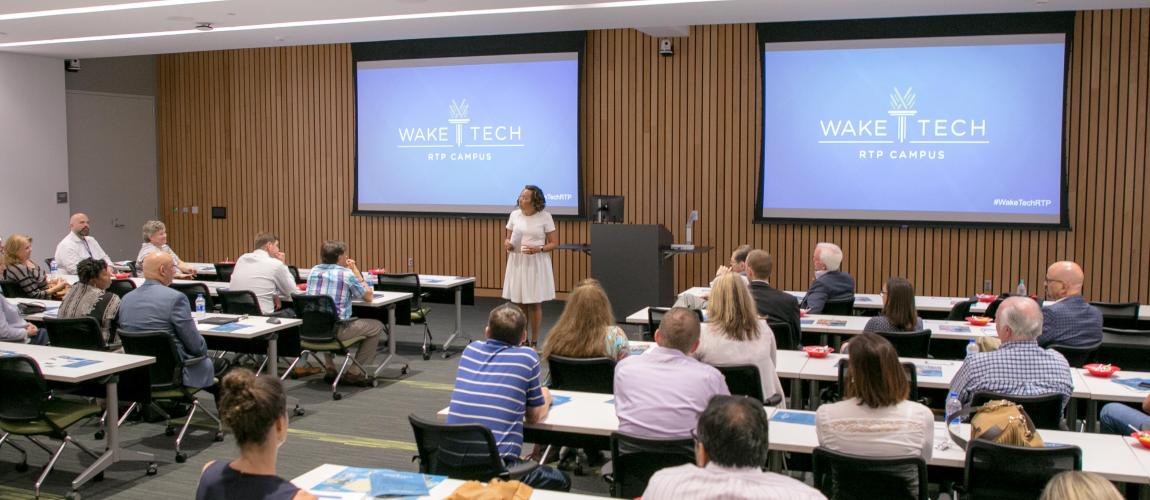 RALEIGH, N.C. (June 18, 2018)-Dozens of business leaders came to Wake Tech's RTP Campus for a preview of the new location. The campus, set to open this fall with a full array of course offerings, is located on Chapel Hill Road near I-540 in Morrisville. More than 200 students have already started taking classes there this summer.
"This place is really special," said Wake Tech Board of Trustees Chair Tom Looney. "I'm a believer, and you should be a believer, too!"
Looney joined Wake Tech President Dr. Stephen Scott, Chief Campus Officer Dr. Rita Jerman and other Wake Tech staff and faculty in welcoming the group. They talked about the programs being offered there, including three of the fastest-growing IT programs at Wake Tech: Networking, Cybersecurity, and Business Analytics, and high-demand programs such as Supply Chain Management and Business Administration.
"This campus was designed with the needs of business and industry in mind," said Dr. Scott. "Local companies provided input on the types of training they're looking for, and we're delivering with high-quality programs that will ensure a skilled workforce."
The RTP Campus is also home to Corporate and Business Solutions, which provides customized training for area employers along with Project Management Professional (PMP) certification preparation and Lean Six Sigma. The campus offers the Associate in Arts, Associate in Science and Associate in Engineering programs for college/university transfer as well.
Business leaders took a tour of the building, which includes high-tech computer labs, state-of-the-art science labs, and an expansive library and learning commons. The first phase of the RTP Campus will accommodate as many as 1,000 students. Eventually, the campus will have nine buildings, and serve 7,000 students or more.
"We're taking it to the next level with this campus!" said Looney.
The building will officially open with a ribbon-cutting ceremony on August 7. To see the complete list of programs offered at the RTP Campus, visit rtp.waketech.edu