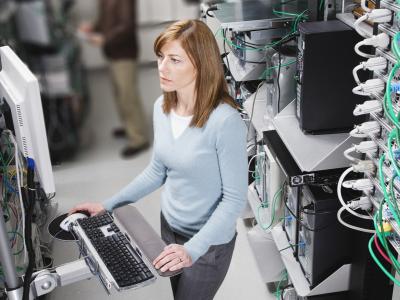 Program Contact
Kobie Joyner
Degrees & Pathways
AAS - Associate in Applied Science
Diploma
Certificates
About The Program
The Network Management curriculum prepares individuals for employment supporting local- and wide-area networks. Students will learn how to use technologies to provide for data, voice, image and video communications in business, industry and education. Coursework includes design, installation, configuration and management of local- and wide-area network hardware and software. Emphasis is placed on developing proficiency in the use of network management software and the use of hardware such as bridges and routers.
Graduates may find entry-level employment as local area network managers, network operators, network analysts and network technicians. Graduates may also be qualified to take certification examinations for various network products, depending on their local programs.
Along with a two-year Associate in Applied Science degree (AAS) in IT-Network Management, Wake Tech offers two shorter, one-year certificate programs in Cisco Network Associate (C25590CA) and Cisco Network Professional (C25590CP). The certificates are embedded in the AAS degree, so a degree graduate would also earn both certificates if appropriate electives are chosen. For more information, students should contact academic advisors or the networking degree program director. Program planning guides are available online.
Complete both your Cisco Certified Networking Professional (CCNP) and your AAS degree in as little as one year
IT industry credentials already earned, such as A+, Network+, Security+ and CCNA, can count for college credits.
Already have college credits from another degree path? Up to 15 of those credits will apply toward this degree.
Degree students can participate in Work-Based Learning with local tech companies. Many students get job offers upon graduation.
You can earn the Cisco Certified Network Professional (CCNP) credential before you graduate. It's part of the degree path.
For more information:
Cherme Lucero
[email protected] | 919-866-5392