Green Trek is an initiative started by Wake Tech to encourage students and employees to use more sustainable forms of transportation. We want to move away from driving in a car alone to carpools, buses, bicycles and walking. The goal is to reduce the number of vehicle miles traveled by decreasing the number of cars on the road. This is a regional partnership effort that also includes GoRaleigh, GoTriangle, the North Carolina Department of Transportation and other agencies and organizations.
Explore your transportation options
Announcements
September 27, 2022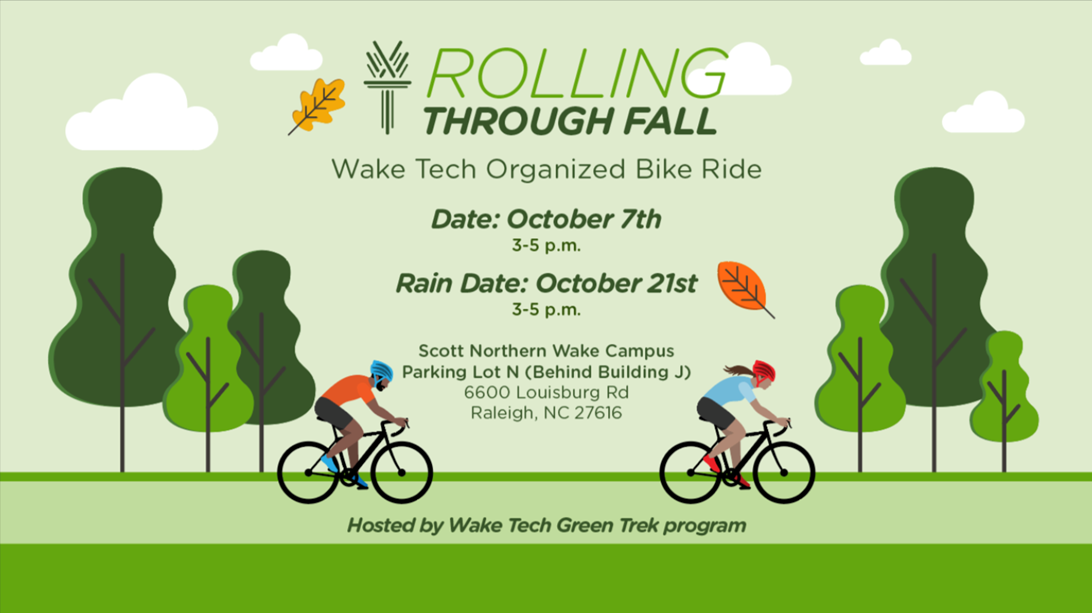 Wake Tech Green Trek is hosting a Rolling Through Fall bike event to allow cyclists to explore the Neuse River Greenway that runs behind Scott Northern Wake Campus. Cyclists can reach parks, restaurants, grocery stores, coffee shops, pharmacies and more along the greenway.
Cyclists have the choice of two rides:
Under 5 miles – stops at Horseshoe Farm Nature Preserve
16 miles – stops at Green Hill County Park
Rolling Through Fall begins at 3 p.m. October 7 in parking lot N behind Building J on Scott Northern Wake Campus. If it rains that day, the event will be held at the same time and location on October 21.
August 5, 2022
The schedule for the GoRaleigh Route 40X that serves Southern Wake Campus will be on a reduced service schedule during the Fall semester, running once an hour. The bus will leave Moore Square Station at 15 after the hour and arrive at Southern Wake Campus at 45 after the hour from 6 a.m. to 5 p.m., Monday through Friday.
May 1, 2022
May is Bike Month. Visit Green Trek's Bike/Walk page and Raleigh's Bike Month page for information about area events.
March 7, 2022
Due to the COVID-19 pandemic, some GoRaleigh routes are not operating, including ones that go to Wake Tech campuses. The NRX route that serves the Scott Northern Wake Campus is suspended, as well as the Bush Street Shuttle that serves the Beltline Education Center. We will inform everyone if there is an update regarding these routes.
December 8, 2021
Southern Wake Campus (road upgrades, new bus stop and carpool drop-off)
Road improvements continue in front of Southern Wake Campus to make way for N.C. Highway 540.
Temporary lane shifts are in place on U.S. Highway 401 for approximately 18 months as construction progresses on the bridges over N.C. 540.
Old McCullers Road is permanently closed at the intersection with U.S. 401.
Students are encouraged to use Learning Way (stoplight entrance) to access the campus and the new carpool drop-off.
Beginning January 3, 2022, the 40X bus stop in Lot B will move to the new bus stop in Lot D.
There is a new dedicated carpool lane in Lot D for passenger drop-off. As of January 6, 2022, the current passenger drop-off location near Buildings A & B will no longer be accessible.
October 12, 2021
Beltline Education Center (Raleigh sidewalk project)
Navaho Drive between Wake Forest Road and Bush Street will be closed starting October 18, 2021, and remain closed until the end of Spring 2022.
Southern Wake Campus (N.C. 540 project)
Donny Brook Road closed at U.S. Highway 401 on October 11 and was shifted to Chandler Ridge Circle/Wake Tech Way at U.S. 401. 
Old McCullers Road at U.S. 401 will close at the end of November 2021.
Old McCullers Road between Ten-Ten Road and Advantage Way will reopen at the end of November 2021.
GoPass program
Wake Tech students and employees may pick up a free Regional GoPass at any campus ID office at the following campuses. A valid Wake Tech ID is required.
Southern Wake Campus
Scott Northern Wake Campus
Perry Health Sciences Campus
Beltline Education Center