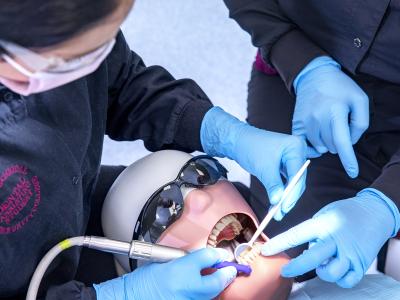 Program Contact
Health Sciences Admissions
About The Program
Dental assistants help deliver quality oral health care and are valuable members of a dental care team. If you have strong communication skills, enjoy working with your hands as well as your mind and want a career with responsibility, dental assisting is for you.
The Dental Assisting program is founded on teaching, service, scholarly endeavors and patient care. The learning environment should stimulate the discovery of knowledge, techniques and service that contribute to the holistic health of the public and the growth of the dental assisting profession. The faculty's primary responsibilities are to provide a comprehensive approach to student development that encourages critical, independent and professional thinking and to optimize each student's growth.
Background check
The sites with which Wake Tech has contracted to provide clinical training require that all students assigned to their sites provide a criminal background check to Wake Tech and that the college notify the clinical site of any individuals who have criminal records.
The sites have the discretionary right to refuse to permit a student having a criminal record from receiving training in their facility, and this determination is made by each of the sites individually, without input from the college. Most clinical sites will not review or make a determination on pending cases that have not been resolved.
"Criminal record" is understood broadly to include the conviction of any felony, misdemeanor or impaired driving charge and/or the dismissed charge of any felony, misdemeanor or impaired driving charge, excluding minor traffic violations. The background check includes every county where an applicant has lived during the past 10 years.
Immunization
Students must comply with the requirements of clinical facilities regarding immunizations. Proof of immunity is mandated with rare exceptions, and only if there is a documented medical reason such as pregnancy, allergy or a life-threatening reaction.
The Health Sciences clinical compliance administrator will provide specific immunization requirements to students after they have been conditionally accepted into the clinical portion of the Dental Assisting program.
Accreditation
The Commission on Dental Accreditation of the American Dental Association, a specialized accrediting body recognized by the Council on Postsecondary Accreditation and the U.S. Department of Education, accredits Wake Tech's Dental Assisting and Dental Hygiene programs. Each program has been granted "approval without reporting requirements" status. The commission can be contacted at 312-440-4653 or at 211 E. Chicago Ave., Chicago, IL 60611.
A copy of the Dental Assisting Accreditation Standards may be found online, as can the CODA Policies and Procedures, including those for filing complaints.
Wake Tech is accredited by the Southern Association of Colleges and Schools Commission on Colleges to award associate degrees, diplomas and certificates. Contact the Southern Association of Colleges and Schools Commission on Colleges at 1866 Southern Lane, Decatur, GA 30033-4097 or call 404-679-4500 for questions about Wake Tech's accreditation.
Program Contact: Health Sciences Admissions
Office Phone: 919-747-0402