Automotive Systems Technology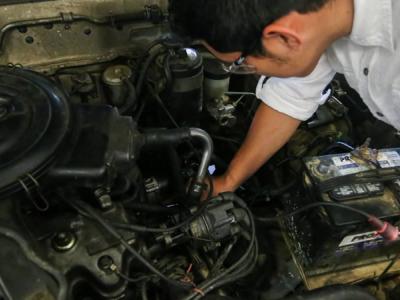 Program Contact
Matthew Berry
Degrees & Pathways
AAS - Associate in Applied Science
Automotive servicing has changed drastically in the past 10 years. Mechanics work with electronic equipment as well as a variety of tools, and they must understand computer diagnostics along with the basics of vehicle repair. To successfully fix an automobile, the service technician must be able to properly diagnose the problem and then apply their technical knowledge and skills to resolve the issue. The Automotive Systems Technology program will equip you for successful employment in the transportation industry.
The Automotive Systems Technology associate degree program at Wake Tech has received certification by the ASE Education Foundation and is accredited by the National Institute for Automotive Service Excellence (ASE). All eight areas of auto repair meet the strict industry standards required for ASE MASTER certification, which is the highest level of achievement recognized by the institute.
Education
Wake Tech offers a two-year (21-month) Associate in Applied Science (AAS) degree in Automotive Systems Technology (AUT). The program includes new and emerging technologies. Most classes allow for three hours of hands-on (lab) experience for each hour of classroom instruction/lecture. Wake Tech's AST curriculum covers all automotive systems, progressing from the basics to advanced technologies, to prepare students for success in the workplace. The electrical system is emphasized most, since electricity controls 99% of vehicle operations. A background in automotive is not required for the program.
On completion, students should be prepared to take the ASE exam and enter full-time employment in automotive dealerships and repair shops.
Admissions
All AUT programs have limited enrollment. Students can enter programs in the Fall or Spring semester, as follows:
Complete Wake Tech's admission application online and follow instructions, including requesting your high school and (if applicable) college transcripts and indicating the code or codes for your major on the application.
Schedule to take course placement tests for English and math (see if you are exempt).
Meet with an advisor to review your placement test scores.
Meet with the AUT department head to verify program codes and selected pathway.
Find out your start date. If the program you choose is full, the department head can recommend general education courses that can be taken until an opening occurs.
Wake Tech's Admissions Office can provide more detailed information.
Manufacturing programs include:
Audi Campus
GM ASEP Program
Subaru Campus
The program includes:
Electrical systems
Theory
Servicing and operation of brakes
Engine performance
Steering and suspension
Automatic transmission/transaxles
Engine repair
Climate control
Manual drivetrains
Diesel fuel systems
Alternative fuels
The Automotive Systems Technology program does not seek out projects for its day or evening curriculum classes.  The program is designed as an educational platform, not a production facility where repairs and preventive maintenance are performed. While it will consider projects from time to time, the program does so sparingly and within the confines of the coursework being taught during a specific semester.
Inquiries and requests will be placed on a list, and the department will notify the parties if and when there is availability.  There is no guarantee that a request for maintenance or repair will be scheduled.
Employment
Job opportunities in the automotive field are plentiful. Qualified technicians can work in specialized shops that focus on a single system (electrical, transmission, brakes, etc.), in dealerships, on particular product lines or in independent garages servicing all types of vehicles.
The average starting salary is about $25,000 a year; it can vary depending on the technician's abilities. Salaries can increase significantly as skills and experience grow. Successful Master Diagnostic Technicians can earn more than $65,000 a year, plus chances to compete with other technicians for awards and bonuses.
Several dealerships and independent garages in Wake and surrounding counties employ Wake Tech graduates. Wake Tech stays in close contact with these employers to make sure their needs and the needs of graduates are being met. Local employers include Capital Ford, Crossroads Ford, Leith Honda, Kings Auto, Reeve-Smith Auto, Fred Anderson Toyota, Hendrick and more.