Plus 50 Lifelong Learning
Wake Tech's Plus 50 program offers courses such as yoga, dance, Spanish and scrapbooking. If you take a course at a location other than a Wake Tech campus, such as a senior center, you must register for the course at that specific location.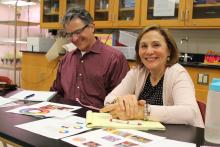 In addition to courses offered at various Wake Tech campuses and sites, we offer programs at senior centers, community and recreation sites throughout Wake County.
Partner sites and senior centers
Become an entrepreneur
You may have dreamed of starting a business or turning hobbies or volunteer work into a money-making operation. Wake Tech's Small Business Center and Entrepreneurship Initiatives programs have resources to help get you started. Talk with an SBC advisor in a free, confidential session any time questions arise.
Retired to re-hired
Going back into the workforce can be daunting: You may wonder about your tech skills or generation gaps in the workplace – or you may be seeing a challenge you haven't identified yet. Wake Tech's Career Transitions Forum is a great place to start. This unique, weekly series of lectures and networking activities brings professionals together to share ideas and experience in a supportive environment. 
Course details and registration information
Course
A North Carolina Clay Story
Name
CSP-4000HS2
Overall Quality of This Course
Based on 6 student surveys.
Available Classes
Intended Audience
Plus 50 Course
Description
Learn about North Carolina's role in the history of clay, including the Native American experience, the Colonial era and the present day pottery industry. Discover historic and contemporary artisans who work with clay.
Course Objectives
gain a better understanding of a most basic material of clay/mud and its impact and relationship with North Carolina.
Outline of Instruction
Beginnings and Influences: An introduction and overview looks at early human use of this most basic material and what influenced the development of the resource.
Early Clay in Carolina: Takes a closer look at the material and the impact of clay on the people and development of North Carolina.
Colonial to 19c Carolina: Looks at the evolution of clay works, potters and commerce over the transition from colony to state into the 1800s
NC Clay Today: Brings the story of Clay in North Carolina through the 20th century up to today's notable artisans and the many outlets, high and low, for this jewel of humble origins.
Contact Hours
8
CEU's
No
Industry Standard, State, or National Certification
No
CE to CU Articulation
No
Prerequisites
Text and Supplies Needed
Clinical Site/Special Facilities
Requirements for Successful Completion of this Course
Attendance 90% or above
Participation
Accreditation/Special Approval Requirements
Intended Audience
Plus 50 Course
Specific Industry or Business Support Needs
Industry or Job Titles Related to training Outcomes for Employment
Related Courses
Course Contact Information
Courtney Boney
919-532-5581