Plus 50 Lifelong Learning
---
Plus 50 Sites and Programs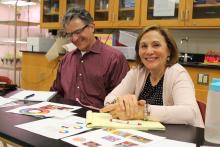 In addition to courses offered at various Wake Tech campuses and sites, we offer programs at senior centers, community and recreation sites throughout Wake County:
---
Example offsite courses include yoga, dance, Spanish, and scrapbooking.  One must register at the specific senior center for these courses and to see the list of classes available.
Become an Entrepreneur
You may have dreamed of starting a business or turning hobbies or volunteer work into a money-making operation. Wake Tech's Small Business Center and Entrepreneurship Initiatives programs have resources to help get you started. Talk with an SBC advisor (live and in person!) in a free, confidential session, any time questions arise.
Retired to Re-hired!
Going back into the workforce can be daunting: You may wonder about your tech skills or generation gaps in the workplace - or you may be seeing a challenge you haven't identified yet. Wake Tech's Career Transitions Forum is a great place to start. This unique, weekly series of lectures and networking activities brings professionals together to share ideas and experience in a supportive environment. 
---
Course Details & Registration Information
Course
20 Century Art & Times II
Name
CSP-4000HR2
Overall Quality of This Course
Based on 6 student surveys.
Available Classes
Intended Audience
Plus 50 Students (50 years of age and older)
Description
Explore the second 50 years of the 20th Century (1950-1999). Learn about major events of each year in culture, science, politics and the arts. Audio/visual presentations will show how events influence the arts and the arts influence events. Gain a better understanding of how the myriad of events and processes influence each passing year.
Course Objectives
learn the interrelated aspects of our world. Context to events and the times in which they occurred will be explained. Participants will be able to assess current events
Outline of Instruction
1950-1959: Korean War, Color TV, 22d Amendment Limits President terms, First H-Bomb, Iron Curtain, DNA structure discovered, Polio vaccine, Einstein dies, National Guard in Little Rock, First US satellite, and Castro Cuba.
1960-1969: JFK elected, Berlin Wall, Humans in space, Cuban Missile Crisis, JFK assassinated, Dr Strangelove, First spacewalk, Artificial heart, Heart transplant, Moon orbited, Vietnam War, and Walking on the Moon.
1970-1979 Gene synthesis, First space station, "stone-age" tribe discovered, Watergate, US – USSR space craft link-up, Concorde jet, Star Wars, DOE established, First "test-tube-baby," CDs, and Islamic Revolution
1980-1989: Rings of Saturn close-up, First AIDS in NYC, Falkland Island War, Flight 269 shot by Soviets, Union-Carbide Bhopal poisoning, Challenger explodes on launch, Another Stock Market crash, and DNA fingerprint.
1990-1999: Internet born, Gulf War, Micro devices, Digital TV, Mass produced electric cars, Digital cameras, Hong Kong returned to China, First GMO corn, Cloning sheep, Euro born.
Contact Hours
10
CEU's
No
Industry Standard, State, or National Certification
No
CE to CU Articulation
No
Prerequisites
Text and Supplies Needed
Clinical Site/Special Facilities
Requirements for Successful Completion of this Course
Attendance 90% or above
Participation
Accreditation/Special Approval Requirements
Intended Audience
Plus 50 Students (50 years of age and older)
Specific Industry or Business Support Needs
Industry or Job Titles Related to training Outcomes for Employment
Related Courses
Course Contact Information
Courtney Boney
919-334-1612