Plus 50 Lifelong Learning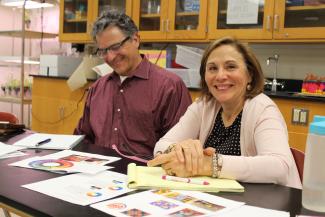 Wake Tech offers courses designed especially for adults 50 and over that can help you discover a new career, improve your job search skills, plan for retirement, or explore personal interests. 
At our Plus 50 events, you can sample courses and attend presentations from community experts on a wide variety of topics - small business counseling, long-term healthcare, retirement, beer brewing, flying commercial drones, and much more! Stay tuned for announcements about upcoming Plus 50 events. 
---
Check out these programs and resources:
Become an Entrepreneur
You may have dreamed of starting a business or turning hobbies or volunteer work into a money-making operation. Wake Tech's Small Business Center and Entrepreneurship Initiatives programs have resources to help get you started. Talk with an SBC advisor (live and in person!) in a free, confidential session, any time questions arise.
Retired to Re-hired!
Going back into the workforce can be daunting: You may wonder about your tech skills or generation gaps in the workplace - or you may be seeing a challenge you haven't identified yet. Wake Tech's Workforce Continuing Education division can help -- and the Career Transitions Forum is a great place to start. This unique, weekly series of lectures and networking activities brings professionals together to share ideas and experience in a supportive environment. 
---
Course Details & Registration Information
Career Readiness for the Child/Elder Care Provider
HRD-3004AV4
1 available classes
Learn more about becoming a child or elder care provider! Explore child and elder care provider roles, job duties, working and learning environments, social aspects of the industry, and career/educational options. Learn to analyze your personal career interests. Develop orga...
Computer Keyboarding Introduction
SEF-3001FB2
1 available classes
Keyboarding skills are essential today. This course will help students with little or no typing experience learn proper techniques for typing with all fingers, without hesitation, and for improving speed and accuracy.
Healthy Aging
SEF-7999E
2 available classes
As the U.S. population ages, opportunities abound for working with seniors in various settings that support quality of life. This certificate program presents an overview of the aspects of aging and health in the later years. It helps to build a foundation for the treatment...
Hire Yourself: Create Your Own Career
HRD-3004BM2
1 available classes
Explore opportunities for self-employment with little startup expenses. Learn about various possibilities for launching and developing a business of your own and how to get started. If your work history is less than ideal or if you have limited education, a criminal record,...
The Road to Retirement
CSP-4000ED2
2 available classes
Are you nearing or considering retirement? This course will teach you how to integrate important concepts to help you prepare for retirement. In addition, you will find out how to fight off the effects of inflation, avoid unnecessary taxes, and protect yourself from the pote...
Behavioral Finance
SEF-3001AB2
This course introduces students to behavioral finance and provides a foundation for better financial decision-making. The first step to successfully investing money is to not lose it! The course will cover the theory and practice of behavioral finance, including common heuri...
Income Tax Planning 101
SEF-3001ER2
Learn about personal income tax returns, deductions, IRA contributions, tax-saving strategies, and more. This course is part of the Finance Academy series, for those who want to know more about investing, home buying, long-term care, and retirement.
Learning New Tricks: Seeking Employment as a Mature Professional
HRD-3006V2
Workers over 40 are a vital part of the workforce, and employers continue to hire them for the talent and experience. Get a better understanding of what today's employers are looking for and how to be successful in finding employment. Find out which employers and industries...
Lecture Presentation Series, Microsoft Windows 10
CSP-4000EA2
This Lecture Presentation Series topic titled 'Microsoft Windows 10' will explain the announcement by Microsoft on their latest Operating System (OS). The PowerPoint presentation will cover the new enhancements being introduced, who is entitled to the free upgrade, and how...
Microsoft Computer Class 401
CSP-4000DT2
This course is for knowledgeable users and system administrators. It explores Microsoft releases and versions and how they differ, computer file structure, advanced features dealing with security, and administrator tools. It also covers operational uses needed to maintain Mi...