Plus-50 Lifelong Learning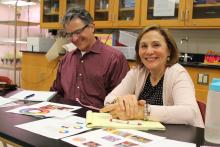 Wake Tech offers courses designed especially for adults age 50 or older that can help you discover a new career, improve your job search skills, plan for retirement or explore personal interests. The Plus-50 program has courses that range from such as yoga to dance to Spanish to scrapbooking.
In addition to courses offered at various Wake Tech campuses and sites, we offer programs at senior centers, community and recreation sites throughout Wake County. If you take a course at a location other than a Wake Tech campus, you must register for the course at that specific location.
Partner sites and senior centers
Become an entrepreneur
You may have dreamed of starting a business or turning hobbies or volunteer work into a money-making operation. Wake Tech's Small Business Center (SBC) and Entrepreneurship Initiatives programs have resources to help get you started. Talk with an SBC advisor in a free, confidential session any time questions arise.
Retired to rehired
Going back into the workforce can be daunting. You may wonder about your tech skills or generation gaps in the workplace – or you may be seeing a challenge you haven't identified yet. Wake Tech's Career Transitions Forum is a great place to start. The unique, weekly series of lectures and networking activities brings professionals together to share ideas and experience in a supportive environment. 
Course details and registration information
Beyond the Basics: Advanced Conversation and Fluency
COM-3711Z3
1 available classes
Improve your fluency and accuracy in spoken English. Students will learn how to express themselves and interact with other people on a variety of topics, in a variety of settings. Instructors will use up-to-date instructional techniques including effective error correction.
Essential Spanish 1
FLI-3717AU2
1 available classes
Start learning Spanish - grammar, vocabulary, and culture - in this fun and engaging course, the first in a comprehensive five-part series. No previous Spanish instruction needed! You'll learn expressions for getting acquainted with others in social situations, and talking a...
Italian Beginning Part 1
FLI-3718A2
2 available classes
Ready to learn Italian? Basic knowledge of Italian vocabulary and grammar are taught through textbook exercises, videos, and classroom discussion. You'll build language skills you can use in travel and business — while learning more about Italian culture.
Nuts and Bolts of Teaching Grammar to English Language Learners
EDU-3002F2
1 available classes
English grammar can be a challenge – for both students seeking mastery and for instructors trying to explain rules and their exceptions. Whether you are tutoring, teaching overseas, or working in a community college, this course will give you the tools to become a successful...
Retirement Planning Today
CSP-4000JI2
4 available classes
You've worked hard to provide for your family and save for your future - now, your money should work for you! This course will show you how to keep more of what you've earned, whether you're approaching retirement or just beginning to think about it. You'll learn how to set...
Substitute Effective Teacher Training
EDU-3002A3
1 available classes
Non-certified substitute teachers: Increase your daily pay in Wake County! Develop strategies for managing your classroom and delivering instruction, as well as becoming familiar with NC school laws and administrative expectations throughout K-12. 100% attendance required. F...
A North Carolina Clay Story
CSP-4000HS2
Learn about North Carolina's role in the history of clay, including the Native American experience, the Colonial era and the present day pottery industry. Discover historic and contemporary artisans who work with clay.
Autism Technician/Registered Behavior Technician Training
MHT-3100A2
Become a paraprofessional in the field of Autism services. Learn principles and strategies for working with adults and children with Autism Spectrum Disorder (ASD). This course provides an understanding of ASD and best practices for assisting those with functional communicat...
Beginning Conversational Spanish
FLI-3717Q2
Designed for students with some prior knowledge of Spanish, this course will help you develop conversational and reading strategies. The course includes group readings, discussions, dialogues, oral presentations, and role playing. Emphasis is on practical, everyday language,...
Biophilic Environments and our Aging Population
CSP-4000HX2
Biophilia is humankind's innate biological connection with nature, and such an environment can reduce stress, enhance creativity, improve well-being and expedite healing. This course addresses the benefits of biophilic design, the different values, and elements associated wi...