Plus 50 Lifelong Learning
Wake Tech's Plus 50 program offers courses such as yoga, dance, Spanish, and scrapbooking. If you take a course at a location other than a Wake Tech campus such as a senior center, then you must register for a course at that specific senior center.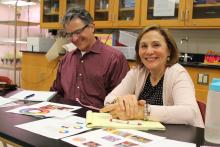 In addition to courses offered at various Wake Tech campuses and sites, we offer programs at senior centers, community and recreation sites throughout Wake County. 
Partner sites and senior centers
Become an Entrepreneur
You may have dreamed of starting a business or turning hobbies or volunteer work into a money-making operation. Wake Tech's Small Business Center and Entrepreneurship Initiatives programs have resources to help get you started. Talk with an SBC advisor (live and in person!) in a free, confidential session, any time questions arise.
Retired to Re-hired!
Going back into the workforce can be daunting: You may wonder about your tech skills or generation gaps in the workplace - or you may be seeing a challenge you haven't identified yet. Wake Tech's Career Transitions Forum is a great place to start. This unique, weekly series of lectures and networking activities brings professionals together to share ideas and experience in a supportive environment. 
Course Details & Registration Information
Wake Tech Auctioneer Academy
MKT-3093A2
1 available classes
Are you ready to become an auctioneer? Taking bids now! This course provides a working knowledge of the auction business, including conducting auctions, ethics, contract drafting, bid calling, basic mathematical computations and percentages, advertising, settlement statement...
A North Carolina Clay Story
CSP-4000HS2
Learn about North Carolina's role in the history of clay, including the Native American experience, the Colonial era and the present day pottery industry. Discover historic and contemporary artisans who work with clay.
Acting Part 1
CSP-4000IY2
Have you ever wondered how actors can laugh, cry, and rage at will? Sign up for this course and begin a journey that will change your life! Focus is on moment-to-moment life, impulses, and emotional preparation through a series of steps and exercises that are then applied to...
Acting Part 2
CSP-4000JK2
Ready to take the next step in learning the skills required to be an actor? In this course, you will continue to learn, improve, and refine character-building skills. This course builds on the acting techniques and methods taught in Acting Part 1.
Career Readiness for the Child/Elder Care Provider
HRD-3004AV4
Learn more about becoming a child or elder care provider! Explore child and elder care provider roles, job duties, working and learning environments, social aspects of the industry, and career/educational options. Learn to analyze your personal career interests. Develop orga...
Career Transitions Forum: Lecture Series for Business Professionals
HRD-3006X2
Are you changing careers? This course is for you. Enjoy lectures, activities, and opportunities for networking and support. Topics vary weekly and incorporate professional community resources that provide a current, real-world perspective on the job market. Craft strategies...
Computer Basics for Plus 50
CSP-4000JV2
Are you thinking about getting a new computer or upgrading to Windows 10? Computer Basics is for the inexperienced or novice adult user. By the end of this class students will have experience using the Microsoft Windows Operating system.
Creating a Backyard Wildlife Garden
CSP-4000IR2
Anyone can create a safe and natural space for plants and wildlife. Learn about planting and providing property to enhance land for birds, pollinators, and other wildlife which can become critical for an eco-friendly habitat. Students will learn to create a safe and natural...
Healthy Aging
SEF-7999E
As the U.S. population ages, opportunities abound for working with seniors in various settings that support quality of life. This certificate program presents an overview of the aspects of aging and health in the later years. It helps to build a foundation for the treatment...
Hire Yourself: Create Your Own Career
HRD-3004BM2
Explore opportunities for self-employment with little startup expenses. Learn about various possibilities for launching and developing a business of your own and how to get started. If your work history is less than ideal or if you have limited education, a criminal record,...