Plus 50 Lifelong Learning
---
Plus 50 Sites and Programs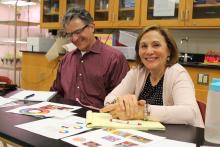 In addition to courses offered at various Wake Tech campuses and sites, we offer programs at senior centers, community and recreation sites throughout Wake County:
| | | |
| --- | --- | --- |
| Apex Community Center | 919-249-3402 | 53 Hunter St, Apex, NC 27502 |
| Cary Senior Center | 919-469-4061 | 120 Maury Odell Pl, Cary, NC 27513 |
| Cedar Fork Community Center | 919-463-7100 | 1050 Town Hall Dr, Morrisville, NC 27560 |
| Eastern Wake Senior Center | 919-365-4248 | 323 Lake Drive Wendell, NC 27591 |
| Garner Senior Center | 919-779-0122 | 205 E Garner Rd, Garner, NC 27529 |
| Knightdale Recreation Center | 919-217-2232 | 101 Lawson Ridge Rd. Knightdale, NC 27545 |
| Northern Wake Senior Center | 919-554-4111 | 235 E Holding Ave, Wake Forest, NC 27587 |
---
Become an Entrepreneur
You may have dreamed of starting a business or turning hobbies or volunteer work into a money-making operation. Wake Tech's Small Business Center and Entrepreneurship Initiatives programs have resources to help get you started. Talk with an SBC advisor (live and in person!) in a free, confidential session, any time questions arise.
Retired to Re-hired!
Going back into the workforce can be daunting: You may wonder about your tech skills or generation gaps in the workplace - or you may be seeing a challenge you haven't identified yet. Wake Tech's Career Transitions Forum is a great place to start. This unique, weekly series of lectures and networking activities brings professionals together to share ideas and experience in a supportive environment. 
---
Course Details & Registration Information
Acting Part 1
CSP-4000IY2
1 available classes
Have you ever wondered how actors can laugh, cry, and rage at will? Sign up for this course and begin a journey that will change your life! You'll explore the acting techniques developed by Sanford Meisner. Focus is on the partner, moment-to-moment life, impulses, and emotio...
Biophilic Environments and our Aging Population
CSP-4000HX2
1 available classes
Biophilia is humankind's innate biological connection with nature, and such an environment can reduce stress, enhance creativity, improve well-being and expedite healing. This course addresses the benefits of biophilic design, the different values, and elements associated wi...
Computer Basics: Microsoft Windows 10
SEF-3001IO2
1 available classes
Do you need to improve your computer skills? If you have little or no computer experience, this course is for you. Increase your computer knowledge by learning to use Microsoft Windows 10 to understand the basics for hardware, software, and computer accessories.
Computer Keyboarding Introduction
SEF-3001FB2
2 available classes
Keyboarding skills are essential today. This course will help students with little or no typing experience learn proper techniques for typing with all fingers, without hesitation, and for improving speed and accuracy.
Learning New Tricks: Seeking Employment as a Mature Professional
HRD-3006V2
2 available classes
Workers over 40 are a vital part of the workforce, and employers continue to hire them for the talent and experience. Get a better understanding of what today's employers are looking for and how to be successful in finding employment. Find out which employers and industries...
The Ageless Home™: Ageless Living by Design
CSP-4000JC2
3 available classes
If you want to buy a home, build a home, or renovate, this course will empower you to create the perfect environment for ALL ages. America's active housing population ranges from 24-78 years old. Ageless design and product placement will help you create an environment that c...
20 Century Art & Times I
CSP-4000HP2
Explore the first 50 years of the 20th Century (1900-1949). This course will highlight major events of each year in culture, science, politics and the arts. Discover how events influence the arts and the arts influence events. Develop a better understanding of the early 20th...
20 Century Art & Times II
CSP-4000HR2
Explore the second 50 years of the 20th Century (1950-1999). Learn about major events of each year in culture, science, politics and the arts. Audio/visual presentations will show how events influence the arts and the arts influence events. Gain a better understanding of how...
A North Carolina Clay Story
CSP-4000HS2
Learn about North Carolina's role in the history of clay, including the Native American experience, the Colonial era and the present day pottery industry. Discover historic and contemporary artisans who work with clay.
Behavioral Finance
SEF-3001AB2
This course introduces students to behavioral finance and provides a foundation for better financial decision-making. The first step to successfully investing money is to not lose it! The course will cover the theory and practice of behavioral finance, including common heuri...