Plus 50 Lifelong Learning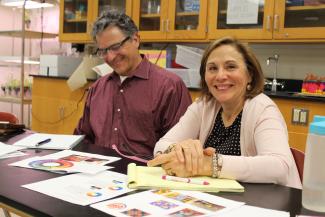 Wake Tech offers courses designed especially for adults 50 and over that can help you discover a new career, improve your job search skills, plan for retirement, or explore personal interests. 
---
Check out these programs and resources:
Become an Entrepreneur
You may have dreamed of starting a business or turning hobbies or volunteer work into a money-making operation. Wake Tech's Small Business Center and Entrepreneurship Initiatives programs have resources to help get you started. Talk with an SBC advisor (live and in person!) in a free, confidential session, any time questions arise.
Retired to Re-hired!
Going back into the workforce can be daunting: You may wonder about your tech skills or generation gaps in the workplace - or you may be seeing a challenge you haven't identified yet. Wake Tech's Career Transitions Forum is a great place to start. This unique, weekly series of lectures and networking activities brings professionals together to share ideas and experience in a supportive environment. 
---
Course Details & Registration Information
Certificate in Aging Studies Part 1
SEF-3001IX2
1 available classes
Gain a well-rounded understanding of issues regarding aging and learn how you can better serve older adults as they face various challenges in their lives. Aging studies, also called gerontology, is one of the fastest growing areas of study in the U.S. and is an expanding a...
Certificate in Aging Studies Part 2
SEF-3001IY2
1 available classes
At a time when our nation's population is living longer and healthier lives, this new certificate was created to prepare individuals with vision to transform "old age" into "long life." Part II will focus on coping with transitions, health care planning, accessing the aging...
Computer Keyboarding Introduction
SEF-3001FB2
1 available classes
Keyboarding skills are essential today. This course will help students with little or no typing experience learn proper techniques for typing with all fingers, without hesitation, and for improving speed and accuracy.
Financial Planning in the Shadow of Dementia
CSP-4000HT2
1 available classes
Today more than 15 million Americans are caring for an individual with Alzheimer's disease or another form of dementia. As Baby Boomers continue to age, the number of people needing care is expected to grow exponentially. Learn about the importance of financial planning in t...
Identity Theft and Online Security
CSP-4000HU2
1 available classes
Are you interested in learning more about identity theft and the services available to protect you? Learn what identity theft is and discover how each of us is at risk. Explore the impact of social media. Discover how to improve your level of protection. The course will also...
Learning New Tricks: Seeking Employment as a Mature Professional
HRD-3006V2
3 available classes
Workers over 40 are a vital part of the workforce, and employers continue to hire them for the talent and experience. Get a better understanding of what today's employers are looking for and how to be successful in finding employment. Find out which employers and industries...
The Road to Retirement
CSP-4000ED2
2 available classes
Are you nearing or considering retirement? This course will teach you how to integrate important concepts to help you prepare for retirement. In addition, you will find out how to fight off the effects of inflation, avoid unnecessary taxes, and protect yourself from the pote...
20 Century Art & Times I
CSP-4000HP2
Explore the first 50 years of the 20th Century (1900-1949). This course will highlight major events of each year in culture, science, politics and the arts. Discover how events influence the arts and the arts influence events. Develop a better understanding of the early 20th...
20 Century Art & Times II
CSP-4000HR2
Explore the second 50 years of the 20th Century (1950-1999). Learn about major events of each year in culture, science, politics and the arts. Audio/visual presentations will show how events influence the arts and the arts influence events. Gain a better understanding of how...
A North Carolina Clay Story
CSP-4000HS2
Learn about North Carolina's role in the history of clay, including the Native American experience, the Colonial era and the present day pottery industry. Discover historic and contemporary artisans who work with clay.