Plus 50 Lifelong Learning
---
Plus 50 Sites and Programs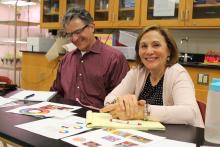 In addition to courses offered at various Wake Tech campuses and sites, we offer programs at senior centers, community and recreation sites throughout Wake County:
---
Example offsite courses include yoga, dance, Spanish, and scrapbooking.  One must register at the specific senior center for these courses and to see the list of classes available.
Become an Entrepreneur
You may have dreamed of starting a business or turning hobbies or volunteer work into a money-making operation. Wake Tech's Small Business Center and Entrepreneurship Initiatives programs have resources to help get you started. Talk with an SBC advisor (live and in person!) in a free, confidential session, any time questions arise.
Retired to Re-hired!
Going back into the workforce can be daunting: You may wonder about your tech skills or generation gaps in the workplace - or you may be seeing a challenge you haven't identified yet. Wake Tech's Career Transitions Forum is a great place to start. This unique, weekly series of lectures and networking activities brings professionals together to share ideas and experience in a supportive environment. 
---
Course Details & Registration Information
Acting Part 1
CSP-4000IY2
1 available classes
Have you ever wondered how actors can laugh, cry, and rage at will? Sign up for this course and begin a journey that will change your life! Focus is on moment-to-moment life, impulses, and emotional preparation through a series of steps and exercises that are then applied to...
Computer Basics: Microsoft Windows 10
SEF-3001IO2
1 available classes
Do you need to improve your computer skills? If you have little or no computer experience, this course is for you. Increase your computer knowledge by learning to use Microsoft Windows 10 to understand the basics for hardware, software, and computer accessories.
The Ageless Home™: Ageless Living by Design
CSP-4000JC2
4 available classes
If you want to buy a home, build a home, or renovate, this course will empower you to create the perfect environment for ALL ages. America's active housing population ranges from 24-78 years old. Ageless design and product placement will help you create an environment that c...
The Road to Retirement
CSP-4000ED2
1 available classes
Are you nearing or considering retirement? This course will teach you how to integrate important concepts to help you prepare for retirement. In addition, you will find out how to fight off the effects of inflation, avoid unnecessary taxes, and protect yourself from the pote...
20 Century Art & Times I
CSP-4000HP2
Explore the first 50 years of the 20th Century (1900-1949). This course will highlight major events of each year in culture, science, politics and the arts. Discover how events influence the arts and the arts influence events. Develop a better understanding of the early 20th...
20 Century Art & Times II
CSP-4000HR2
Explore the second 50 years of the 20th Century (1950-1999). Learn about major events of each year in culture, science, politics and the arts. Audio/visual presentations will show how events influence the arts and the arts influence events. Gain a better understanding of how...
A North Carolina Clay Story
CSP-4000HS2
Learn about North Carolina's role in the history of clay, including the Native American experience, the Colonial era and the present day pottery industry. Discover historic and contemporary artisans who work with clay.
Biophilic Environments and our Aging Population
CSP-4000HX2
Biophilia is humankind's innate biological connection with nature, and such an environment can reduce stress, enhance creativity, improve well-being and expedite healing. This course addresses the benefits of biophilic design, the different values, and elements associated wi...
Career Readiness for the Child/Elder Care Provider
HRD-3004AV4
Learn more about becoming a child or elder care provider! Explore child and elder care provider roles, job duties, working and learning environments, social aspects of the industry, and career/educational options. Learn to analyze your personal career interests. Develop orga...
Certificate in Aging Studies Part 1
SEF-3001IX2
Gain a well-rounded understanding of issues regarding aging and learn how you can better serve older adults as they face various challenges in their lives. Aging studies, also called gerontology, is one of the fastest growing areas of study in the U.S. and is an expanding a...