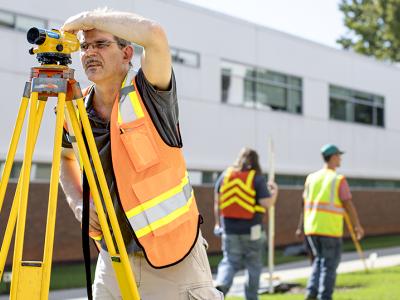 Key Info
Program Contact
Beth Ihnatolya
Degrees & Pathways
AAS - Associate in Applied Science
Certificates
About The Program
Overview
The Geomatics Technology curriculum provides education and training in surveying skills emphasizing boundary and topographic field work and mapping, site design and construction layout, GPS/GNSS systems and GIS data collection and integration. There are scholarship funds available for this program of study.
---
Education
Geomatics Technology students are introduced to a variety of coursework covering surveying law, state plane coordinate systems, surveying computations, site design and site surveying, as well as CAD and GIS software suitable for performing common workplace objectives. Students working in their field of study, with access to equipment and software, may also have opportunities to earn credit for course lab objectives by submitting workplace generated material in lieu of attending scheduled on-campus labs. Graduates also have transfer opportunities to pursue B.S. degrees at UNCC (Civil Engineering Technology), and NC A&T (Geomatics).
Software Used:
ArcGIS Desktop
AutoCAD
AutoDesk Infrastructure Design Suite w/ Civil 3D
Excel
HEC RAS
Microsoft Project
Pathfinder Office & TerraSync
Survey Pro
For more information please contact Beth Ihnatolya at [email protected].
---
Employment
Graduates in Geomatics Technology typically find employment as field technicians serving as instrument operators or crew chiefs, or in the office assisting with computations and mapping. Starting salary range for technicians in these positions is typically $15-$20 an hour and above, depending on qualifications and prior work experience.