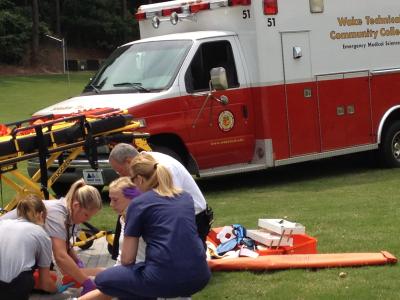 Key Info
Program Contact
Ginny Renkiewicz
Degrees & Pathways
AAS - Associate in Applied Science
About The Program
Wake Tech provides high-quality instruction in emergency medical care to prepare students as Emergency Medical Technicians (EMTs), Advanced EMTs (AEMTs), and Paramedics to meet regional, state, and national demand. Our students learn through intensive, scenario-based instruction and use of state-of-the-art simulation equipment to master the knowledge, hands-on skills, and critical thinking needed by EMS professionals to treat patients in the prehospital environment.  
The mission of Wake Technical Community College's Emergency Medical Science (EMS) program is to produce confident, competent, entry-level EMS professionals through evidence-based practices and by inspiring our students to excellence in patient care through quality education. Additionally, the EMS program will serve the state of North Carolina and beyond as a leader in education for the Emergency Medicine profession.
The Emergency Medical Science (EMS) program at Wake Technical Community Colleges strives to be a program if excellence that spearheads the forward progression of the profession through contributions to research, education, and compassionate patient care.
Several career pathways are available.  Eligible students may:
Earn a two-year Associate of Applied Science degree in Emergency Medical Science to obtain a Paramedic credential.
Complete 17 college credits towards the Emergency Medical Science Certificate at the North Wake College and Career Academy These credits will prepare students to test for an EMT credential. *Only students accepted to the EMS program and enrolled at Northern Wake College and Career Academy are eligible for this program.
Obtain or renew EMT certification through our Continuing Education EMT and EMT Refresher courses. 
Accreditation Statement
The Wake Tech Emergency Medical Science program is accredited by the Committee on Accreditation of Allied Health Education Programs (CAAHEP) upon recommendation of the Committee on Accreditation for the Emergency Medical Services Professions (CoAEMSP).
To contact the CAAHEP:
25400 US Highway 19 North • Suite 158 • Clearwater, FL 33763 • 727-210-2350 • www.caahep.org
To contact the CoAEMSP:
8301 Lakeview Parkway • Suite 111-312 • Rowlett, TX 75088 • 214-703-8445 • www.coaemsp.org