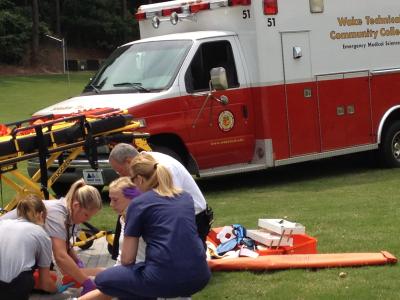 Key Info
Program Contact
Ginny Renkiewicz
Degrees & Pathways
AAS - Associate in Applied Science
About The Program
Wake Tech provides high-quality instruction in emergency medical care to prepare students as Emergency Medical Technicians (EMTs) and Paramedics to meet regional demand. Our students learn through intensive, scenario-based instruction and use of state-of-the-art simulation equipment to master the knowledge, hands-on skills, and critical thinking needed by EMS responders to help those during an emergency.  
The mission of Wake Technical Community College's Emergency Medical Science (EMS) program is to produce confident, competent, entry-level EMS professionals through evidence-based practices and by inspiring our students to excellence in patient care through quality education. Additionally, the EMS program will serve the state of North Carolina and beyond as a leader in education for Emergency Medicine profession.
The Emergency Medical Science (EMS) program at Wake Technical Community Colleges strives to be a program if excellence that spearheads the forward progression of the profession through contributions to research, education, and compassionate patient care.