Air Conditioning, Heating & Refrigeration Technology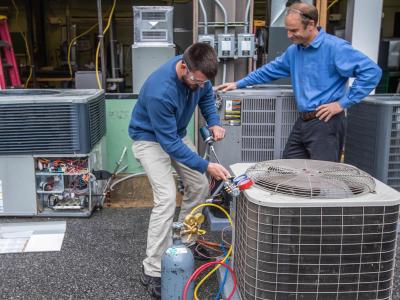 Program Contact
James Freeman
Degrees & Pathways
AAS - Associate in Applied Science
Diploma
Certificates
About The Program
An air conditioning, heating and refrigeration technician is trained to design, install and service air conditioning, heating and refrigeration equipment in residential and light commercial applications.
Most homes, workplaces and dining or entertainment spots have heat and air conditioning. Most also have refrigerators, freezers and ice makers. There is an obvious need for qualified technicians in this field, and the industry is focused on keeping people comfortable, their drinks cold and their food preserved. The AHR industry is one of the most demanding in that there are several trades involved. You must become proficient in the electrical, sheet metal and piping trades. In order to accomplish this in the given time frame, it takes a dedicated person who is willing to set goals and work hard.
Education
The AHR program is designed to provide students with the basic skills to design, install and service air conditioning, heating and refrigeration equipment and is offered with three different degree tracks: Commercial A/C, Building Automation and Commercial Refrigeration. Commercial A/C is for residential and light commercial applications; Building Automation covers building automation controls within the commercial HVAC context; and Commercial Refrigeration specializes in commercial refrigeration systems. Once they graduate, technicians may decide to pursue design work, fabrication, installation or service work in a residential or commercial setting. Demand is great for qualified individuals in this field.
Two Years, Two Days, One Degree - The AHR Fast Track Program
Enroll in the daytime AAS degree program
Take classes two days a week
Be available the remainder of the week to pursue a position in the trade while being a full-time student
Graduate in two years with your AAS degree in AHR
Be confident you are job-ready, proficient and embedded in a growing field
Space is limited, so don't delay. Get on the fast track to success.
The program includes the following:
HVACR electricity and electrical equipment
HVAC controls
Comfort cooling systems
Oil, gas and electric heating systems
Maintenance and servicing
Schematics and diagrams 
Employment
The industry needs personnel in all areas, including installation, servicing and sales. According to job market research, there are 15 to 25 jobs for every qualified technician nationwide. Starting salaries are between $11 and $15 per hour. However, with overtime and performance pay, several past graduates have reported making more than $40,000 their first year. This is a self-paced career, and earnings will rise rapidly with experience and knowledge.
Employment choices among local or nationwide companies will be almost limitless: Johnson Controls, Piedmont Air Conditioning, Encompass, American Residential Services, Service Experts, Southern Piping, Triangle Refrigeration, Greater Raleigh Refrigeration, Johnstone Supply Company, Lincoln Properties, Fowler and Sons Refrigeration and many more.