Agricultural Systems Technology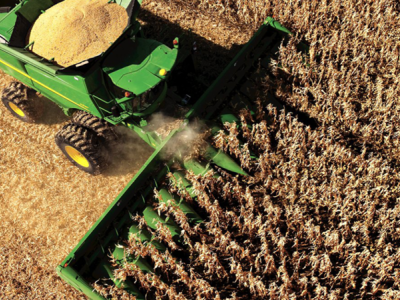 Program Contact
Paige Kearns
Degrees & Pathways
AAS - Associate in Applied Science
Diploma
About The Program
This program prepares individuals to maintain and repair specialized farm, ranch, and agribusiness power equipment and vehicles. It includes instruction in the principles of diesel, combustion, electrical, steam, hydraulic, and mechanical systems and their application to the maintenance of terrestrial and airborne crop-spraying equipment; tractors and hauling equipment; planting and harvesting equipment; cutting equipment; power sources and systems for silos; irrigation and pumping equipment; dairy, feeding, and shearing operations; and processing systems. 
Students receive instruction in engines, hydraulics, electrical, electronic, and powertrain systems among other topics. Coursework may include transportation systems theory, braking systems, climate control, design parameters, drivetrains, electrical/electronic systems, engine repair, engine performance, environmental regulations, materials, product finish, safety, steering/suspension, transmission/transaxles, and sustainable transportation, depending on the major area chosen. 
Graduates should be prepared to take professional exams, which correspond to certain programs of study, and to enter careers as entry-level technicians in the transportation industry. 
Work-based learning (formerly Co-op) opportunities are available.
LIMITED ENROLLMENT PROGRAM
Heavy Equipment and Transport Technologies, Agricultural Systems Technology, Construction Systems Technology, and Heavy Equipment Operation, Management and Service are limited enrollment programs which have unique admission requirements, policies, procedures, schedules, and deadlines which are subject to change. Interested applicants for our limited enrollment programs should complete the entire application process including placement testing and review with an Academic Advisor. The Advisor will go over essential information and give you a Limited Enrollment Student Checklist which outlines and directs you to the next steps for limited enrollment programs. When meeting with your program advisors, be sure to bring your Limited Enrollment Student Checklist with you.
Interested applicants for any of our limited enrollment programs should contact Paige Kearns at [email protected]
ADMISSIONS: All HEATT programs have limited enrollment. Students can enter programs in the fall or spring semester, as follows:
Complete the Application for Admission to Wake Tech online and follow application instructions, including requesting your high school and (if applicable) college transcripts and indicating the code or codes for your major on the application.
Schedule to take the RISE Placement Test (see if you are Exempt).
Meet with an advisor to review your placement test scores.
Meet with the HEATT department head to verify program codes and selected pathway.
Find out your start date. If the program you choose is full, the department head can recommend general education courses that can be taken until an opening occurs.
For more detailed admissions information, visit http://admissions.waketech.edu