Around WakeTech
Virtual Support Center Now Available for Students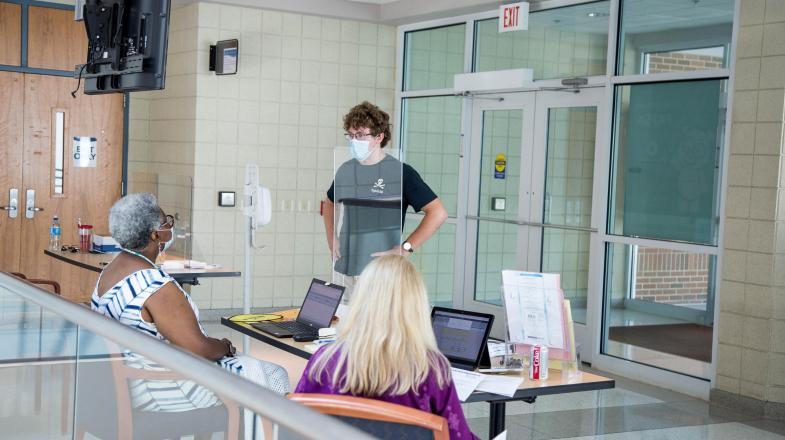 RALEIGH, N.C. (July 16, 2020) – Current and prospective Wake Tech students can now utilize the college's Virtual Support Center to help enroll for fall semester and access support services and academic resources.
The Virtual Support Center is a hub for virtual student services such as admissions, financial aid, registration and records, advising, veterans services, career and employment resources, and wellness counseling. It also includes academic resources such as e-learning support, libraries and tutoring. The best and safest way to get assistance during the pandemic, the Virtual Support Center allows students to ask questions, take care of next steps, make appointments to video chat with staff members, or access student resources by email, phone, or the EagleQ virtual waiting line.
Beginning Monday, July 20, the college will also offer limited on-campus assistance for those who are not able to access virtual services. This assistance will include admissions, advising, financial aid, and registration and records, and will be available on the Southern Wake and Scott Northern Wake campuses, Monday through Friday from 8:30 a.m. – 5:00 p.m.
All visitors will first check in for a wellness screening. Wellness checkpoints will be located in Building M (Montague Hall) on the Southern Wake Campus and Building E on the Scott Northern Wake Campus.
Visitors who need to drop off documents or receive basic information will be able to do so in Building L on the Southern Wake Campus and Building B on the Scott Northern Wake Campus. Those who need to speak with a staff member in a specific department will be assisted to join an EagleQ waiting line. Once registered, they will be asked to wait in their vehicle until they receive a text or call that a staff member is available to see them. Due to limited staffing on campus, wait times may be longer than usual. Visitors will be required to wear face coverings and will be limited to one other guest, which includes children, while inside a building.
Students are encouraged to pay their bill online, but for those who prefer to pay in person, the Cashier's Offices in Building M on the Southern Wake Campus and Building C on the Scott Northern Wake Campus will also be open as of July 20. These offices will operate Monday through Friday from 8:30 a.m. to 5:00 p.m. Face coverings and social distancing will be required. Online bill payment is easy and convenient on Self Service or the Wake Tech mobile app. Mail-in payments are also accepted.
Wake Tech students will be taking hybrid – a combination of seated and online classes – or fully online classes this fall. The college released its fall 2020 reopening plan in June, called "Learn Well: Wake Tech's Plan for Safety and Progress During the Pandemic." The plan includes comprehensive Safety Guidelines and Protocols to help keep students, employees, and campus visitors safe and healthy.
Many Wake Tech students in hands-on applied engineering and health science programs have been taking hybrid courses over the summer with social distancing in labs and shops. Those options will be extended to other Wake Tech program areas in the fall, along with a comprehensive offering of fully online courses. Fall semester starts as scheduled on August 17.
Wake Tech is North Carolina's largest community college, serving more than 74,000 students every year, and 25% of Wake County high school graduates.