WTCC Craft Beer Program - Fermenting Entrepreneurs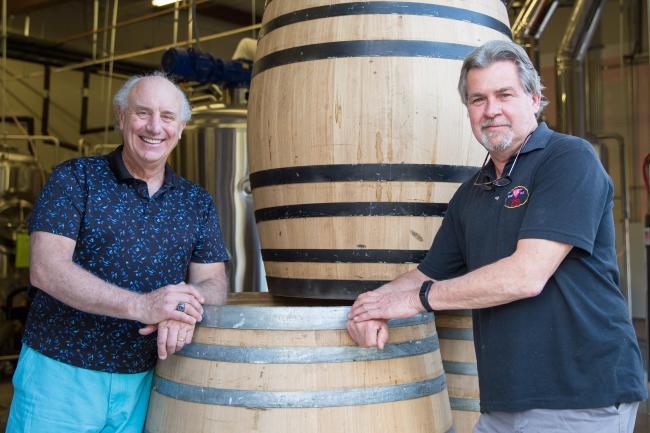 Oaklyn Springs Brewery
Class of 2018
"The Wake Tech Craft Beer Brewing program gave us the chance to spread our wings in our senior years."
— Oaklyn Springs Brewery
Over the past 10 years, Fuquay-Varina's population has more than doubled. This growth has attracted many new businesses and encouraged existing ones to expand. Oaklyn Springs Brewery is one of the exciting new businesses along Highway 401, brewing artful craft beer and hosting local artisans and musicians. 
Conceived in 2014 by four friends: John Blazewicz, Chris Goff, JD Conley, and Kerry Powell, at a neighborhood Halloween Block Party, Oaklyn Springs Brewery opened for business in January 2018.  Harvested from a rich homebrewing history, Oaklyn Springs Brewery's craft beers include IPA's, Ale's, Ambers and much more. 
John has been home brewing for more than 40 years and was ready to invest in larger and more sophisticated equipment.  Partnering with three neighbors from varying backgrounds, they purchased new equipment and met every Sunday to brew, often in J.D.'s garage. Seeking to gain more knowledge and hands-on experience, John and Chris enrolled in the Wake Tech Community College Craft Beer Brewing program. The program helps students prepare for entry-level work in a craft brewery through hands-on training exploring fermentation, cellar operations, instruments, hops, malting, clarification, racking room operations, bottle shop operations and more. Advanced students can participate in an internship at a local brewery and all students produce a beer as a group to show their understanding of the principles learned in the classroom and in the field.
Wake Tech has developed strategic partnerships with local breweries for the Craft Beer Brewing program. With Raleigh being listed among the world's top beer destinations in 2019 by beverage-focused website VinePair, there are many successful breweries to expose students to during their coursework. 
Jamie McMillian from Mason Jar Brewing taught Part One: Fermentation Brewhouse and Packaging Operations and both Chris and John immediately knew they were enrolled in the right program. 
"I'm a visual person, I need to see it so this hands-on course with visits to local breweries was perfect." said Chris.
Part Two: Brewing & Plant Operations afforded the students an opportunity to be taught by a very successful local brewer, Brad Wynn of Big Boss Brewing Co.  Brad is thrilled to partner with Wake Tech Community College to teach the art of craft brewing during a time when the industry is rapidly growing.
"It was the most incredible adult education I've ever had. It was hands-on with one of the best, Brad Wynn," said Chris.
Chris Goff moved to North Carolina almost 5 years ago from New Jersey and didn't know a thing about craft brewing until he arrived in what he calls, the epicenter of craft beer on the East Coast. He enrolled in Part Three of the program - Internship and Career Skills, and accepted an internship with Trophy Brewing.  At Trophy Brewing he continued to gain knowledge about the process and networked within the industry. 
"The Wake Tech Craft Beer Brewing program gave me the chance to spread my wings in my senior years. In a lot of industries, age is a factor but not this one—it's a break-through. Now I get to do something that is just so freaking awesome!" said Chris.
Oaklyn Springs Brewing is home to a sophisticated brewing system, complete with 150 and 300-gallon tanks, a big change from the 30-gallon tanks they started within their garage. Outfitting the retail space to bring it to code and create cold storage and a grain-free feeding process was a major undertaking. Fortunately, JD's background as an electrical contractor and Kerry's skills as an engineer, builder, and carpenter helped move the retrofit along.
The dream began on Oaklyn Springs Drive in Raleigh where there has always been a sense of community. Today, these four friends enjoy sharing their craft beer with locals not only from their neighborhood but new friends who appreciated a well-crafted beer.
Stop by Oaklyn Springs Brewery and toast a pint this month during NC Beer Month (2912 N. Main Street, Fuquay-Varina, NC 27540).