Local Venture, Global Mission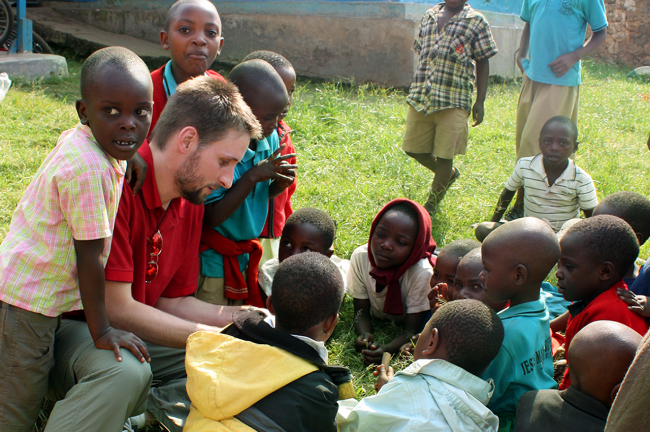 Adam Purvis
Class of 2012
"The education you receive at Wake Tech will go as far as you want to take it!"
— Adam Purvis
Sometimes a little advice can go a long way. For Adam Purvis, it went all the way from Raleigh to Uganda – and Adam went from student to entrepreneur to children's advocate in a very short time.
It started at Wake Tech, where Adam earned a degree in Simulation and Game Development in 2012. He had taken his classes at night while maintaining a full-time job in an architecture firm. By the time he graduated, he wanted more than an entry-level job in game development, so his professor, Walter Rotenberry, gave him some advice: "He suggested that I start my own company," Adam says. "He advised me to stay in the job I had while I figured out how to make that happen."
Adam listened and stayed put at the architecture firm while launching a visual art company, which he called Stickman Viz. He put all his resources back into his new venture, and when the architecture firm eliminated Adam's position, he was perfectly positioned to step out on his own. "Adam took what he had learned at Wake Tech and continued to build on it," says Professor Rotenberry. "When the time was right, he was ready."  
Stickman Viz grew into a thriving company, and Adam found that working for himself was liberating: "I can work for clients from anywhere in the world." With that new-found freedom, he could pursue another passion: helping orphans in Africa. Adam's wife had visited Uganda on a church mission trip and discovered that country's lack of formal adoption procedures. "When the opportunity to help presented itself, we knew we had to go," Adam says. He and his family relocated to Uganda temporarily, and after a few months, they facilitated the adoption of a young boy. "It was an incredible thing to witness," he says.
Adam hopes to soon see more successful adoptions in Uganda, while he continues to work for his clients at Stickman Viz. "Starting my own company has allowed me to go where I want to go and be what I want to be," he says. "Professor Rotenberry got me headed in the right direction. The education you receive at Wake Tech will go as far as you want to take it!"