A Life-Changing Experience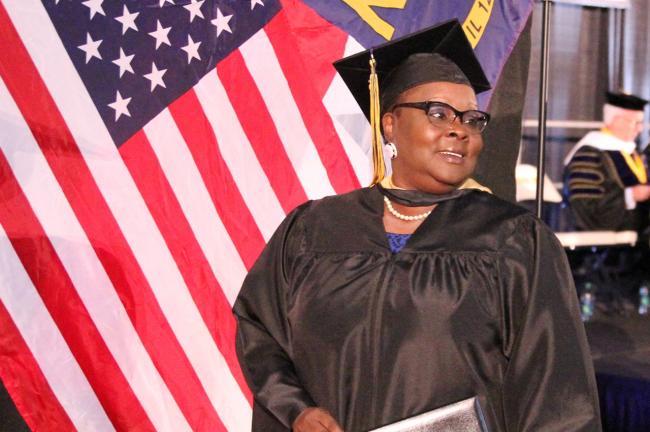 Gwendolyn Jammeh
Class of 2015
"Wake Tech helped put me on a new path and gave me the opportunity to succeed."
— Gwendolyn Jammeh
In her own words.  Watch Gwendolyn's story here: https://www.youtube.com/watch?v=GkChlOcl_Eo
48-year-old Gwendolyn Jammeh is a proud Wake Tech graduate. She completed an associate's degree in Business Administration, and she considers that milestone a symbol of just how much she has accomplished.
For more than 20 years, Gwendolyn battled drug addiction, going in and out of hospitals and institutions – and even spending time behind bars. She stopped using drugs in 2009, and two years later, with encouragement from friends, she enrolled at Wake Tech.
Gwendolyn took classes while working part time and helping to care for a sick parent. She also got married while working toward her degree. She says juggling it all wasn't easy, but she never felt alone: "I learned to ask for help. I visited the Individualized Learning Center (ILC) and asked my instructors for guidance. Believe me, I got help everywhere at Wake Tech!"
Gwendolyn's efforts paid off in good grades, and she graduated in 2015. But she isn't finished with her education! She's now just a few classes shy of completing a second degree – an Associate in Arts degree for college transfer – and plans to go on to earn a bachelor's degree at William Peace University. Her goal is to work at a non-profit organization, helping women who are struggling as she once did. 
Gwendolyn says there's no doubt that Wake Tech changed her life. "Wake Tech helped me believe in myself. The college put me on a new path and gave me the opportunity to succeed."