A Colorful New Chapter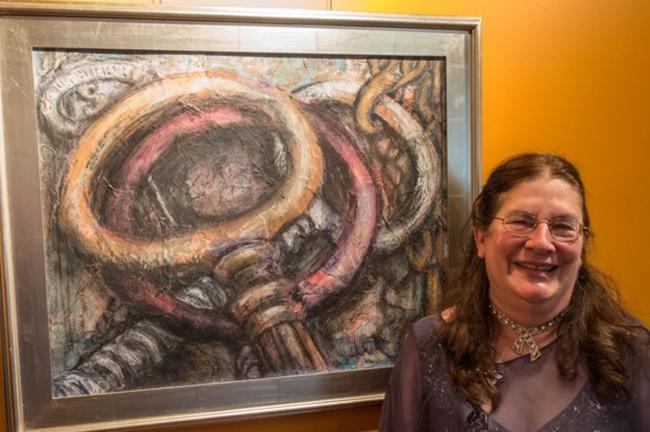 Kat Launey
Class of 2015
"I wanted formal art training, and Wake Tech offered that. I learned so much in those two years. It was fantastic!"
— Kat Launey
68-year-old Kat Launey isn't slowing down in retirement: She graduated from Wake Tech in May 2015 with an Associate in Fine Arts (AFA) degree. Just one month later, Kat displayed her artwork in a solo show! Her collection, Memories and Mysteries, was exhibited for a month at Chatham Hill Winery in Cary – and featured during Cary Art Loop, an art crawl held on the final Friday of each month.
Kat, a retired school psychologist who lives in Louisburg, has been painting and drawing in her free time for years. But when she found out about Wake Tech's new Fine Arts program, she was one of the first people to enroll. "Wake Tech offers the formal training I wanted," she says. "I learned so much in those two years, and I already miss creating at WTCC. The program is fantastic!"
The AFA in Visual Arts degree includes coursework that develops keen visual observation and problem-solving abilities, with additional focus on personal expression. Kat says that was crucial to her. "I finally got an idea of what defines me as an artist," Kat says. "The positive feedback really improved my work!"  
Kat created all the pieces for her art show while at Wake Tech, including watercolors, acrylic paintings, and mixed-media drawings. She has plans for other art shows in the future, and she enjoys selling her work. Kat says Wake Tech helped her write this colorful new chapter in her life: "I can't sum it up; this has been such a wonderful experience." See Kat Launey's work at http://fineartamerica.com/profiles/kathryn-launey.html.