Sibling Success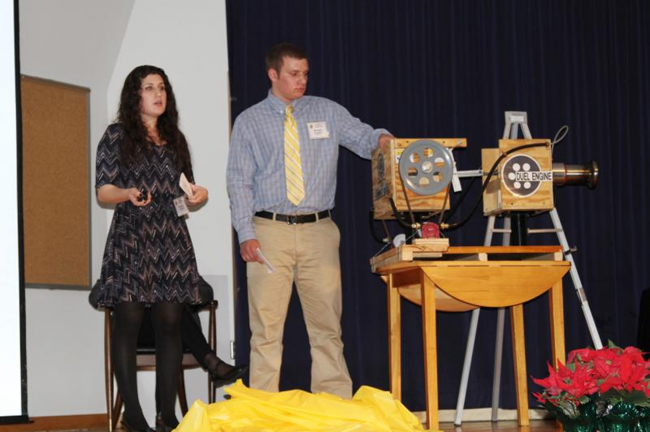 Monique and Mitchell LaValley
Class of 2014
"Programs like STEM Stars and the Honors Program give me extra drive to succeed."
— Monique and Mitchell LaValley
Imagine using the sun to water your garden – Wake Tech engineering students Monique and Mitchell LaValley know how it can be done! Their prototype for a solar-powered engine to distribute water from rain barrels won them the "STEM Stars" title in Wake Tech's fall 2014 competition. But for this brother and sister team, that victory was about more than glory – or the $500 prize that came with it. It was about new learning experiences and the opportunity to immerse themselves in subjects they love and get more out of their education at Wake Tech.
"Programs like STEM Stars and the Honors Program give me extra drive to succeed," says Monique. "Meeting other students and making new friends makes me want to do more!"
The LaValleys have shared that strong sense of motivation since high school, when their father suffered a traumatic brain injury. They had to help care for him while also learning to do more things on their own. Monique tried a four-year university but decided she needed to be closer to home. Her success at Wake Tech inspired her brother to follow suit. Both have received competitive NASA Space Grant scholarships to attend Wake Tech, as well as some other scholarships through the Wake Tech Foundation..
"Wake Tech was the best decision for us," says Mitchell, "and I'm so glad we came here. I've met great people, and the small class sizes have helped me develop my math skills."
Monique says, "I've truly blossomed as a student here."
Instead of sibling rivalry, these two have learned to support each other, realizing they work better as a team. "We truly rely on each other to carry our fair share of the work," says Monique. Not only do they support one another in STEM projects and other schoolwork – they serve together as president and vice president of the Wake Tech chapter of Phi Theta Kappa, the international honor society of two-year colleges.
What's next for these siblings? Both plan to attend NC State University to pursue bachelor's degrees once they complete Associate in Science/Pre-Engineering degrees at Wake Tech. And yes, they definitely plan to continue developing their solar-powered engine!