Academic Counseling for English Students

To help students successfully complete ENG 111 or ENG 112, the Academic Counseling for English Students (ACES) program connects students repeating these courses with English faculty mentors who are uniquely situated to understand the challenges students face in English courses. Through one-on-one relationships with students, ACES mentors provide personalized support with writing, study skills, time management and more. The mentors establish trust, build accountability and empower students to do their best work.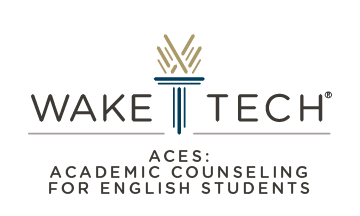 The award-winning team of faculty also connects students with other Wake Tech support services, such as Disability Support Services, Wellness Services, the Individualized Learning Center, the REAL/VREAL Centers, the Care Center and library resources, as needed.
ACES is largely an outreach program, but students may also be referred to the program by an English instructor or Success Coach.