Why Explore Career Options?
Clarify your goals  
Assess your strengths and skills
Rank your interests and priorities
Explore programs of study 
Examine industries and job requirements
Refine your career pathway  
How to Explore
Visit Career Lens open computer labs and meet with a Career Counselor!
Explore Wake Tech programs and courses.
Formulate strategies for personal and professional improvement.
Make informed career planning decisions!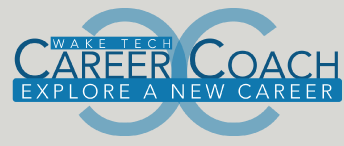 Career Coach - local data on current jobs, salaries, and employment outlook. 
-The Career Coach student resource is supported by the Department of Education grant #P031A140128
Career Lens Schedule
Spring 2020 January 7 - April 30
Available to Wake Tech *prospective/enrolled students and alumni. *Adult learners *Graduating high school and home-schooled seniors *Eligible Career and College Promise (CCP) junior and senior applicants.
Career Counselors provide guidance in defining goals, exploring career pathways, and using career and employment tools and resources.
No reservations are required, and students can attend as many sessions as needed.    
CAMPUS
DAY - TIME
BLD-RM
Southern Wake
Monday - Thursday 1:00 p.m. - 5:00 p.m.
D-205
Scott Northern Wake
Tuesday - Thursday 2:30 p.m. - 5:30 p.m.
D-470
RTP
Tuesday - 3:00 p.m. - 6:00 p.m.
RT1-131
Perry Health Sciences
Thursday - 1:30 p.m. - 4:00 p.m. (as listed)
January 16 * February 20 * March 12 * April 16
HA-112
---
*Career Lens is not offered during the College's holidays and student breaks. Check calendar @ waketech.edu