Plus-50 Lifelong Learning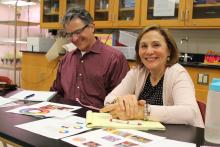 Wake Tech offers courses designed especially for adults age 50 or older that can help you discover a new career, improve your job search skills, plan for retirement or explore personal interests. The Plus-50 program has courses that range from such as yoga to dance to Spanish to scrapbooking.
In addition to courses offered at various Wake Tech campuses and sites, we offer programs at senior centers, community and recreation sites throughout Wake County. If you take a course at a location other than a Wake Tech campus, you must register for the course at that specific location.
Partner sites and senior centers
Become an entrepreneur
You may have dreamed of starting a business or turning hobbies or volunteer work into a money-making operation. Wake Tech's Small Business Center (SBC) and Entrepreneurship Initiatives programs have resources to help get you started. Talk with an SBC advisor in a free, confidential session any time questions arise.
Retired to rehired
Going back into the workforce can be daunting. You may wonder about your tech skills or generation gaps in the workplace – or you may be seeing a challenge you haven't identified yet. Wake Tech's Career Transitions Forum is a great place to start. The unique, weekly series of lectures and networking activities brings professionals together to share ideas and experience in a supportive environment. 
Course details and registration information
Course
Career Readiness for the Child/Elder Care Provider
Name
HRD-3004AV4
Available Classes
Intended Audience
This course is for participants who are interested in learning more about the role and requirements of a care provider and what options are available in this field.
Description
Learn more about becoming a child or elder care provider! Explore child and elder care provider roles, job duties, working and learning environments, social aspects of the industry, and career/educational options. Learn to analyze your personal career interests. Develop organizational and communication skills needed for employment. Utilize job search skills for industry research.
Course Objectives
have identified care provider positions, titles and roles.
have explored career opportunities as a care provider.
have identified skills, training and traits that are needed to be a successful child/elder care provider.
have developed ways to communicate effectively as a care provider to different audiences.
have utilized skills for researching, organizing, and presenting.
have developed a general understanding of the requirements for the child/elder care provider industry.
have learned about educational programs for further education to develop and improve employability skills.
Outline of Instruction
Introductions, registrations, internet job search, identifying roles and opportunities
Communicating with children and elderly
Work environments for the childcare and elder care provider
Identify developmental and aging stages
Communication skills with guardians, relatives, co-workers, employer
Explore business and child care options
Identify social aspects of aging
Tips on behavior management
Discuss ethical issues
Nutrition and wellness for children and elderly
Identify developmental activities and learning environments
Explore business and elder care options
Discuss customer service skills
Demonstrate presentation skills
Discuss further education and training requirements
Contact Hours
40
CEU's
No
Industry Standard, State, or National Certification
No
CE to CU Articulation
No
Prerequisites
Text and Supplies Needed
N/A
Clinical Site/Special Facilities
N/A
Requirements for Successful Completion of this Course
Attendance 90% or above
Participation
Maintain 80 percent average and complete assignments
Accreditation/Special Approval Requirements
N/A
Intended Audience
This course is for participants who are interested in learning more about the role and requirements of a care provider and what options are available in this field.
Specific Industry or Business Support Needs
Industry or Job Titles Related to training Outcomes for Employment
Related Courses
Personal Care Aide - HRD-3001BY2
Course Contact Information
HRD Office http://hrd.waketech.edu
919-532-5694 or 919-532-5696